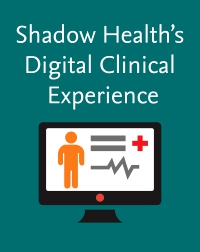 Publication Date:
06-09-2021
Leadership Digital Clinical Experiences - Access Card, 1st Edition
Shadow Health - Access Card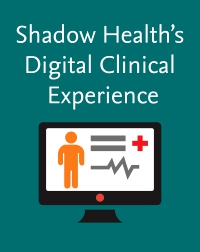 Publication Date:
06-09-2021
This item has low stock levels and may be back-ordered. We'll let you know if it is back-ordered, and you will not be charged until the item ships.
Shadow Health's Digital Clinical Experiences™ for Leadership provide students with a safe, convenient, and dynamic environment to practice their documentation, communication, and clinical reasoning skills. An innovative conversation engine enables students to become more efficient in their patient interactions while maintaining high-quality therapeutic communication and care planning. These meaningful interactions help students gain valuable experience in leadership, delegation, interprofessional communication, practical application, and personal empathy, empowering them to improve patient outcomes and prepare to enter clinical practice.
Digital Standardized Patients™ vary in age, race, socioeconomic status, gender identity, and sexual orientation, and have health histories and diseases/disorders that support your mastery of nursing principles in a wide spectrum of medical situations.
Natural language conversation engine allows you to engage in open-ended conversations with simulated patients to gather subjective data and practice patient-centered communication.
Interview and Assessment activities allow you to demonstrate your clinical reasoning abilities by performing a health assessment on virtual patients to collect objective data and report your findings in the electronic health record.
SBAR activities in many assignments give you the opportunity to practice interprofessional communication with the Preceptor, a physician, or other health care professionals appropriate to the simulation.
Prioritization activities ask you to select the care plan item that will result in the most improvement in the patient's overall health. You are scored on selecting the highest priority action for your patient, taking into consideration Maslow's Hierarchy of Needs and the patient's current subjective and objective data.
Delegation exercises challenge you to prioritize patient needs and identify those items that are appropriate to delegate to other healthcare professionals.
Interprofessional Communication opportunities throughout the simulations, such as the SBAR, enable you to communicate with providers, family members, and other members of the nursing team to provide patient-centered care.
Adaptive standardized debrief with Preceptor Diana changes based on your performance and selections within the assignment.
Procedure Manual Resource within each assignment allows you to read through process and standard operating procedures with regards to collaboration, negotiation, promotion of patient advocacy, collaboration, social justice, data security, regulatory requirements, confidentiality, and right to privacy.
Conflict resolution assignments require you to use the methods in the Procedure Manual Resource to engage in conflict resolution with patients, family members, and providers.
Leadership assignments cover topics such as prioritization, delegation, conflict management, ethics, change management, patient advocacy, and discharge.

Shadow Health