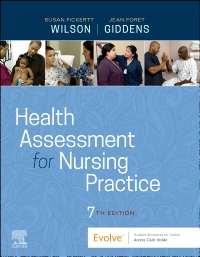 Publication Date:
03-03-2021
Evolve Resources for Health Assessment for Nursing Practice, 7th Edition
Resources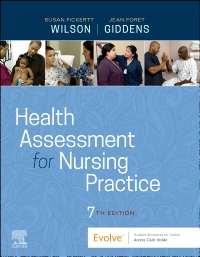 Publication Date:
03-03-2021
Any student who attempts to register for access will be reported to the school's faculty and administration.
Educator Resources on Evolve
Updated TEACH for Nurses lesson plans with new Next-Generation NCLEX® (NGN) content
NEW! 20 NGN-style case studies (15 single-episode, 5 unfolding)
Test bank of 650 items
1,000 PowerPoint® lecture slides with images, case studies, and audience response questions, updated to ensure ADA compliance
Image collection (JPG only, no PowerPoint)
Conversion guide
Student Resources on Evolve
10 Next-Generation NCLEX® (NGN)-style single-episode case studies
155 animations
300 video clips
27 audio clips
Key Points in each chapter (printable)
10 review questions per chapter
Content updates
Unit I. Foundations for Health Assessment1. Introduction to Health Assessment 2. Interviewing Patients to Obtain a Health History3. Techniques and Equipment for Physical Assessment4. General Inspection and Measurement of Vital Signs5. Ethnic, Cultural, and Spiritual Considerations6. Pain Assessment7. Mental Health and Abusive Behavior Assessment8. Nutritional Assessment

Unit II. Health Assessment of the Adult9. Skin, Hair, and Nails10. Head, Eyes, Ears, Nose, and Throat11. Lungs and Respiratory System12. Heart and Peripheral Vascular System13. Abdomen and Gastrointestinal System14. Musculoskeletal System15. Neurologic System16. Breasts and Axillae17. Reproductive System and the Perineum

Unit III. Health Assessment Across the Life Span18. Developmental Assessment Throughout the Life Span19. Assessment of the Infant, Child, and Adolescent20. Assessment of the Pregnant Patient21. Assessment of the Older Adult

Unit IV. Synthesis and Application of Health Assessment22. Conducting a Head-to-Toe Examination23. Documenting the Head-to-Toe Health Assessment24. Adapting Health Assessment New title/emphasis!

AppendixesA. AbbreviationsB. Answer Key

Index

Susan Fickertt Wilson, PhD, RN, Emeritus Associate Professor, Harris College of Nursing and Health Sciences, Texas Christian University, Fort Worth, Texas and Jean Foret Giddens, PhD, RN, FAAN, Robert Wood Johnson Foundation Executive Nurse Fellow, Dean and Professor, School of Nursing, Virginia Commonwealth University, Richmond, Virginia

This product is available in the following formats:
Any student who attempts to register for access will be reported to the school's faculty and administration.