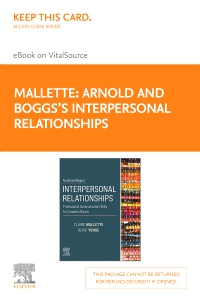 Publication Date:
12-08-2021
Arnold and Boggs's Interpersonal Relationships Elsevier E-Book on VitalSource (Retail Access Card), 1st Edition
Elsevier eBook on VitalSource - Access Card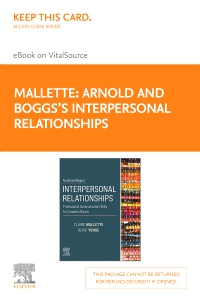 Publication Date:
12-08-2021
This item has low stock levels and may be back-ordered. We'll let you know if it is back-ordered, and you will not be charged until the item ships.
Now more than ever, effective communication skills are key for successful patient care and positive outcomes. Arnold and Boggs's Interpersonal Relationships: Professional Communication Skills for Canadian Nurses helps students develop essential skills for communicating effectively with patients, families, and colleagues in order to achieve treatment goals in health care. Using clear, practical guidelines, it shows how to enhance the nurse-patient relationship through proven communication strategies, as well as principles drawn from nursing, psychology, and related theoretical frameworks. With a uniquely Canadian approach, and a variety of case studies, interactive exercises, and evidence-informed practice studies, this text ensures students learn how to apply theory to real-life practice.
Engaging, comprehensive coverage presents the most current issues and communication concepts.
Fully adapted content reflects Canada's unique health care context and cultural landscape.
Canadian statistics, research, references and resources, guidelines, assessment and screening tools, and more are incorporated throughout the text.
Canadian cultural and demographic considerations address issues related to race/ethnicity, Indigenous peoples, gender identity, LGBTQ2 community, family composition, recent immigrants, refugees, and vulnerable persons.
Engaging with Humility: Authentic Interpersonal Communication in Partnership with Indigenous Peoples chapter increases awareness and knowledge of the impact of colonization on Indigenous peoples, in order to understand and develop practices which respectfully engage in cultural safety and humility through holistic communication with Indigenous peoples and communities.
Rich art programme reflects Canada's cultural diversity in the health care setting.
Emphasis on collaborative communication includes related evidence-informed case studies and analysis.
Socio-cultural communication competencies coverage discusses how to reduce health disparities and increase health literacy.
Questions for Review and Discussion help students practise their reflective analysis skills and provide opportunities for thoughtful review of chapter content.
Content on social media and transitional care delivery reflects current practice standards.
Simulation exercises enable students to practise, observe, and critically evaluate their professional communication skills in a safe learning environment.
Case examples help students learn to develop empathy for patients' perspectives and needs.
Discussion of spirituality and end-of-life needs focuses on trust, empathy, and the nurse-patient relationship — all central components of holistic nursing.
Nursing, behavioural, developmental, family, and communication theories provide an essential foundation and a theoretical perspective for effective communication.
Ethical Dilemma boxes with reflection questions at the end of each chapter help students absorb and retain key ethical content throughout the text.
Evidence-Informed Nursing Practice boxes in each chapter offer a summary of research findings related to the chapter subject and are intended to strengthen awareness of the link between research and practice.
Separate chapters on communication across the lifespan highlight crucial communication tools that are the first step in developing a culture of safety in contemporary health care delivery.

Part I: Theoretical Foundations and Contemporary Dynamics in Patient Centred Relationships and Communication

1. Historical Perspectives and Contemporary Dynamics

2. Clarity and Safety in Communication

3. Professional Guides for Nursing Communication

4. Critical Judgement: Critical Thinking and Ethical Decision Making

Part II: Essential Communication Competencies

5. Developing Patient Centred Communication Skills

6. Variation in Communication Styles

7. Intercultural Communication

8. Communicating in Groups

Part III: Relationship Skills in Health Communication

9. Self-Concept in Professional Interpersonal Relationships

10. Developing Patient Centred Therapeutic Relationships

11. Bridges and Barriers in Therapeutic Relationships

12. Communicating with Families

Part IV: Communication for Health Promotion and Disease Prevention

13. Resolving Conflicts Between Nurse and Patient

14. Communication Strategies for Health Promotion and Disease Prevention

15. Communication in Health Teaching and Coaching

16. Communication in Stressful Situations

Part V: Accommodating Patients with Special Communication Needs

17. Communicating with Patients Experiencing Communication Deficits

18. Communicating with Children

19. Communicating with Older Adults

20. Communicating with Patients in Crisis

21. Communication in Palliative Care

Part VI: Collaborative Professional Communication

22. Role Relationship Communication within Nursing

23. Interprofessional Communication

24. Communicating for Continuity of Care

25. Documentation in Health Information Technology Systems

26. Health and Communication Technology

27. NEW chapter on professional communication skills vis-à-vis Indigenous community. Chapter title and placement TBD.

Claire Mallette, RN, BScN, MScN, PhD, Associate Professor, School of Nursing, York University, Toronto, ON, Olive Yonge, RN, BScN, MEd, PhD, R Psych, Professor, Faculty of Nursing, University of Alberta, Edmonton, AB, Elizabeth C. Arnold, PhD, RN, PMHCNS-BC, Associate Professor of Nursing, Retired, University of Maryland, Baltimore, MD; Family Nurse Psychotherapist, Montgomery Village, MD and Kathleen Underman Boggs, PhD, FNP-CS, Family Nurse Practitioner; Associate Professor Emeritus, College of Health and Human Services, University of North Carolina at Charlotte, Charlotte, North Carolina.