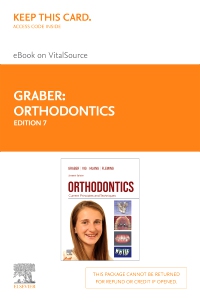 Publication Date:
11-30-2022
Orthodontics - Elsevier eBook on VitalSource (Retail Access Card), 7th Edition
Elsevier eBook on VitalSource - Access Card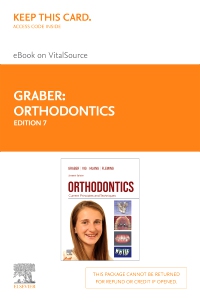 Publication Date:
11-30-2022
This item has low stock levels and may be back-ordered. We'll let you know if it is back-ordered, and you will not be charged until the item ships.
Comprehensive, cutting-edge content addresses contemporary orthodontic practice! Orthodontics: Current Principles and Techniques, 7th Edition provides an evidence-based approach to orthodontic diagnosis, treatment planning, and clinical techniques, including esthetics, genetics, temporary anchorage devices, aligners, technology-assisted biomechanics, and much more. New to this edition are seven chapters, covering topics like AI, maxillary expansion in adults, Class II correctors, and autotransplantation. Newly authored chapters on orthognathic surgery and the craniofacial team, the periodontal-orthodontic interface, interdisciplinary treatment, and accelerated tooth movement, among others, address current perspectives. The 7th edition comes with access to an enhanced eBook version, which includes videos and additional visuals to show concepts difficult to explain with words alone. Readers can also find additional, online-only chapters and a fully searchable version of the text. Respected editors Lee Graber, Katherine Vig, and Greg Huang are joined by new editor Pádhraig Fleming, along with expert contributors from around the world. This text provides the most current and comprehensive collection of orthodontic knowledge, making it the go-to book for orthodontic residents and practitioners!
Comprehensive coverage provides a one-stop resource for the field of orthodontics, including foundational theory and the latest on the materials and techniques used in today's practice.
Experienced, renowned editors lead a team of expert, international contributors to provide the most authoritative clinical practice and supporting science from the best and brightest in the industry.
More than 3,400 images include a mixture of radiographs, full-color clinical photos, and anatomic or schematic line drawings, showing examples of treatment, techniques, and outcomes.
Detailed, illustrated case studies show the decision-making process, highlighting the consequences of various treatment techniques over time.
Extensive references make it easy to look up the latest in orthodontic research and evidence-based information, and all references also appear online.
Enhanced ebook, included with every print purchase, features a fully searchable version of the text and bonus online-only chapters, instructional videos, and more.

NEW! Seven chapters cover topics such as AI, maxillary expansion in adults, Class II correctors, and autotransplantation. Newly authored chapters on aligners, orthognathic surgery, the periodontal-orthodontic interface, interdisciplinary and computer-assisted treatment, temporary anchorage devices, and accelerated tooth movement, among others, address current perspectives.
UPDATED! Relevant literature and evidence-based practices are featured throughout the text.
NEW! Additional photos and illustrations visually reinforce key concepts and procedures.

PART A Foundations of Orthodontics
1 The History of Orthodontics… From an Idea to a Profession
2 Craniofacial Growth and Development: Developing a Perspective
3 Genetics and Orthodontics
4 The Biological Basis for Orthodontics
5 Bone Physiology, Metabolism, and Biomechanics in Orthodontic Practice
6 Application of Bioengineering to Clinical Orthodontics
7 Clinically Relevant Aspects of Dental Materials Science in Orthodontics
8 The Role of Evidence in Orthodontics
9 Applications of Artificial Intelligence and Big Data Analytics in Orthodontics
PART B Diagnosis and Treatment Planning
10 The Decision-Making Process in Orthodontics
11 Psychological Aspects of Diagnosis and Treatment
12 Orthodontic Diagnosis and Treatment Planning with Cone-Beam Computed Tomography Imaging
13 Upper Airway, Cranial Morphology, and Sleep Apnea
14 Orthodontic Therapy and the Patient with Temporomandibular Disorders
15 The Orthodontist's Role and Collaboration in a Cleft Palate–Craniofacial Team
PART C Orthodontic Treatment
16 Principles of Treatment: Balancing Outcome and Efficiency
17 Optimizing Orthodontics and Dentofacial Orthopedics
PART A: Patient Management and Motivation for the Child and Adolescent Patient
PART B: Treatment Timing and Mixed Dentition Therapy
18 Standard Edgewise: Tweed-Merrifield Philosophy, Diagnosis, Treatment Planning, and Force Systems
19 Contemporary Straight Wire Biomechanics
20 Self-Ligating Bracket Biomechanics
21 Lingual Appliance Treatment
22 Clear Aligner Treatment
23 New Frontiers in Fixed Class II Correctors
24 Temporary Anchorage Devices
PART A: Biomechanical Considerations with Temporary Anchorage Devices
PART B: The Use of Palatal Mini-Implant Anchorage: Conventional Approaches Versus Computer-Aided Design and Computer-Aided Manufacturing Workflows
PART C: Extraalveolar Bone Screw Anchorage Applied to Challenging Malocclusions
PART D: Orthopedic Changes with Bone-Anchored Miniplates and Functional Jaw Orthopedics: Biological Basis and Practice
25 Maxillary Expansion in Adults
26 Orthodontic–Periodontal Interface
27 Orthodontic Aspects of Orthognathic Surgery
28 Adult Interdisciplinary Therapy: Diagnosis and Treatment
PART D Specialized Treatment Considerations
29 Bonding in Orthodontics
30 Management of Impactions
31 Management of Dental Luxation and Avulsion Injuries in the Permanent Dentition
32 Autotransplantation of Developing Teeth
33 Iatrogenic Effects of Orthodontic Appliances
PART A: Prevention and Management of Demineralized Lesions
PART B: External Apical Root Resorption
34 Minimally Invasive and Noninvasive Approaches to Accelerate Tooth Movement
35 Aerosols in Orthodontics
36 Computer-Assisted Orthodontics: Integrating Computer-Aided Design and Computer-Aided Manufacturing Technology with Diagnosis, Treatment Planning, and Therapeutics
PART E Orthodontic Retention and Posttreatment Changes
37 Stability, Posttreatment Changes, and Retention
PART F Classic Chapters
38 Interceptive Guidance of Occlusion
39 Functional Appliances
40 Treatment of the Face with Biocompatible Orthodontics
Index

Lee W. Graber, DDS, MS, MS, PhD, Licensed Specialist in Orthodontics; Board Certified, American Board of Orthodontics, Katherine W. L. Vig, BDS, MS, FDS(RCS), DOrth, Professor and Chair, Section of Orthodontics, College of Dentistry, Ohio State University, Columbus, OH, Greg J. Huang, DMD, MSD, MPH, Chair of the Department of Orthodontics
School of Dentistry
University of Washington
Seattle, Washington and Pádhraig S. Fleming, BDent Sc (Hons), MSc, PhD, FDS (Orth) RCS, Professor, Queen Mary University of London, Institute of Dentistry-Barts Health NHS Trust, London, UK