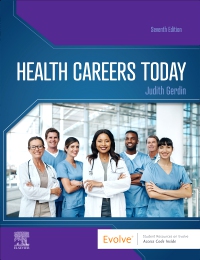 Publication Date:
03-03-2022
Health Careers Today Elsevier eBook on VitalSource, 7th Edition
Elsevier eBook on VitalSource
Publication Date:
03-03-2022
Help your students make informed decisions in choosing a healthcare profession! Health Careers Today, 7th Edition provides a complete overview of the most popular careers in health care. Not only does this book discuss the roles and responsibilities of different occupations, it provides a solid foundation in the skills and competencies that each health career requires. Clear explanations of anatomy and physiology, disease processes, and treatments provide essential knowledge of the human body and show how health concepts apply to the work of various professionals. This edition adds new coverage of skills and the changing healthcare environment; an Evolve website includes anatomy animations, videos of skills and careers, and time-saving instructor resources.
Chapters on health careers focus on allied health professions and careers in high demand, including commonly performed skills, education requirements, and potential earnings of each.
Skill Activities provide the opportunity to obtain hands-on experience, with detailed instructions on how to perform crucial tasks.
Case studies let you practice critical thinking by solving real-world questions and problems.
Health Careers in Practice boxes include profiles of working healthcare professionals and the pros and cons of specific careers.
Brain Bytes reinforce concepts with facts and points of interest relating to the chapter content.
Review questions in each chapter allow you to assess your understanding of the material.
Additional resources include information on professional associations, accreditations, and government agencies for each healthcare profession.

NEW! New and updated content covers health care systems, professionals, and patient workflow, including the latest reimbursement models and a discussion of future trends.
NEW content on fundamental healthcare skills includes topics such as basic accounting, health insurance, and use of electronic health records.
NEW! Expanded content addresses cultural competency, diversity awareness, and bias.

Unit I: Healthcare Today
1. Healthcare in the United States
2. Healthcare Facilities and Organizations
3. Healthcare Delivery and Patient Workflow
4. Healthcare Workforce
5. Healthcare Law and Ethics
Unit II: Healthcare Fundamentals
6. Medical Terminology and Body Systems
7. Medical Mathematics and Calculations
8. Health Insurance and the Revenue Cycle
9. Healthcare Technology and HER
10. Basic Accounting and Finance
11. Wellness, Growth, and Development
12. Safety and Health Practices
13. Professionalism and Effective Communication
14. Cultural Competence and Workplace Diversity
15. Employment and Career Development
16. Academic Foundation
Unit III: Healthcare Careers
17. Physicians and Clinical Support Professionals
18. Nursing Professionals
19. Pharmacists and Pharmacy Support Staff
20. Respiratory Care Professionals
21. Surgical Technologists
22. Physical and Occupational Therapy Careers
23. Diagnostic Imaging Careers
24. Phlebotomists and Dialysis Technicians
25. Clinical Laboratory Technicians
26. Biotechnology Research and Development Professionals
27. Speech Language Pathologists and Audiologists
28. Dieticians and Nutritionists
29. Emergency Medical Technicians and Paramedics
30. Health Information Professionals
31. Health Insurance Professionals
32. Dental Professionals
33. Complementary and Alternative Medicine Careers
34. Forensic and Mortuary Science Professionals
35. Social and Mental Health Professionals
Appendix I: Medical Milestones
Appendix II: Common Prefixes, Word Roots, and Suffixes
Appendix III: Abbreviations and Symbols
Glossary

Judith Gerdin, BSN, MS, Paradise Valley High School, Phoenix, AZ