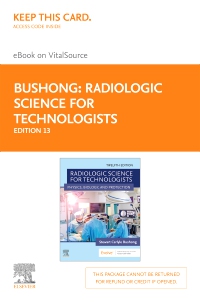 Publication Date:
12-10-2020
Radiologic Science for Technologists Elsevier eBook on VitalSource (Retail Access Card), 12th Edition
Elsevier eBook on VitalSource - Access Card
Publication Date:
12-10-2020
Free Shipping!
This item has low stock levels and may be back-ordered. We'll let you know if it is back-ordered, and you will not be charged until the item ships.
Develop the skills you need to produce diagnostic-quality medical images! Radiologic Science for Technologists: Physics, Biology, and Protection, 12th Edition provides a solid foundation in the concepts of medical imaging and digital radiography. Featuring hundreds of radiographs and illustrations, this comprehensive text helps you make informed decisions regarding technical factors, image quality, and radiation safety for both patients and providers. New to this edition are all-digital images and the latest radiation protection standards and units of measurement. Written by noted educator Stewart Carlyle Bushong, this text will prepare you for success on the ARRT® certification exam and in imaging practice.
Access to this product, which may be at the discretion of your institution, is up to 3 years of online and perpetual offline access. Elsevier reserves the right to restrict or remove access due to changes in product portfolio or other market conditions.
Broad coverage of radiologic science topics includes radiologic physics, imaging, radiobiology, and radiation protection, with special topics including mammography, fluoroscopy, spiral computed tomography, and cardiovascular interventional procedures.
Objectives, outlines, chapter introductions, and summaries organize information and emphasize the most important concepts in every chapter.
Formulas, conversion tables, and abbreviations provide a quick reference for frequently used information, and math equations are always followed by sample problems with direct clinical application.
Key terms are bolded and defined at first mention in the text, with each bolded term included in the expanded glossary.
Math formulas are highlighted in special shaded boxes for quick reference.
Penguin icons in shaded boxes represent important facts or bits of information that must be learned to understand the subject.
End-of-chapter questions help students review the material with definition exercises, short-answer questions, and calculations.
Student workbook reinforces understanding with worksheets that complement the content covered in the text. Available separately.

NEW! Updated content reflects the newest curriculum standards outlined by the ARRT® and ASRT.
NEW! All images are digital, following current radiology practice.
NEW! Updated radiation protection standards and units of measurement are incorporated throughout the text.
NEW! Streamlined physics and math sections focus on the essential content to ensure student technologists are prepared to take the ARRT® exam and have the background needed to perform well in the clinical environment.
NEW! Increased alignment of chapter objectives with the ASRT core curriculum helps students focus on need-to-know content in preparation for the Registry exam and for clinical success.

PART 1: RADIOLOGIC PHYSICS
1. Essential Concepts of Radiologic Science
2. Basic Physics Primer
3. The Structure of Matter
4. Electromagnetic Energy
5. Electricity, Magnetism, and Electromagnetism
PART II: X-RADIATION
6. The X-Ray Imaging System
7. The X-Ray Tube
8. X-Ray Production
9. X-Ray Emission
10. X-Ray Interaction with Matter
PART III: THE MEDICAL IMAGE
11. Imaging Science
12. Computed Radiography
13. Digital Radiography
14. Digital Radiographic Technique
15. Image Acquisition
16. Patient-Image Optimization
PART IV: MEDICAL IMAGE DISPLAY
17. Viewing the Medical Image
18. Picture Archiving and Communication System
PART V: MEDICAL IMAGE QUALITY
19. Image Perception
20. Digital Display Device
21. Medical Image Descriptors
22. Scatter Radiation
23. Radiographic Artifacts
PART VI: ADVANCED MEDICAL IMAGING
24. Mammography
25. Fluoroscopy
26. Interventional Radiology
27. Computed Tomography
28. Tomosynthesis
PART VII: RADIOBIOLOGY
29. Human Biology
30. Fundamental Principles of Radiobiology
31. Molecular Radiobiology
32. Cellular Radiobiology
33. Deterministic Effects of Radiation
34. Stochastic Effects of Radiation
PART VIII: RADIATION PROTECTION
35. Health Physics
36. Designing for Radiation Protection
37. Radiography/Fluoroscopy Patient Radiation Dose
38. Computed Tomography Patient Radiation Dose
39. Patient Radiation Dose Management
40. Occupational Radiation Dose Management

Stewart C. Bushong, ScD, FAAPM, FACR, Professor of Radiologic Science, Baylor College of Medicine, Houston, TX