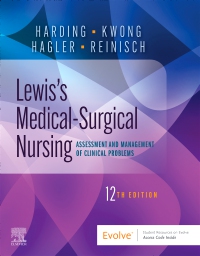 Publication Date:
10-14-2022
Evolve Resources for Lewis's Medical-Surgical Nursing, 12th Edition
Resources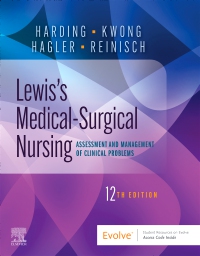 Publication Date:
10-14-2022
Any student who attempts to register for access will be reported to the school's faculty and administration.
Educator Resources on Evolve
TEACH for Nurses lesson plans
PowerPoint® slides
Image collection
Test bank with more than 2,000 questions
Next-Generation NCLEX® Examination (NGN)–style case studies
Concept-based curriculum map
Conversion guide
Student Resources on Evolve
Printable Key Points summaries for each chapter
55 case studies with state-of-the-art animations
1,000 NCLEX® Examination–style review questions
60 customizable nursing care plans
Audio with heart and lung sounds
Conceptual Care Map Creator
Conceptual Care Maps for selected case studies
Fluids & Electrolytes tutorial
Answer Keys for Applying Clinical Judgment with Multiple Patients
Answer Keys for Bridge to the NCLEX® Examination questions and case studies
Audio glossary
Section One: Concepts in Nursing Practice1. Professional Nursing2. Social Determinants of Health NEW title/focus!3. Health History and Physical Examination4. Patient and Caregiver Teaching 5. Chronic Illness and Older Adults6. Caring for Lesbian, Gay, Bisexual, Transgender, Queer or Questioning, and Gender Diverse Patients NEW!Section Two: Problems Related to Comfort and Coping 7. Stress Management8. Sleep and Sleep Disorders9. Pain10. Palliative and End-of-Life Care11. Substance Use Disorders in Acute CareSection Three: Problems Related to Homeostasis and Protection12. Inflammation and Healing13. Genetics14. Immune Responses and Transplantation15. Infection16. Cancer17. Fluid, Electrolyte, and Acid-Base ImbalancesSection Four: Perioperative Care18. Management: Preoperative Care19. Management: Intraoperative Care20. Management: Postoperative Care21. Emergency and Disaster NursingSection Five: Problems Related to Altered Sensory Input22. Assessment and Management: Visual Problems23. Assessment and Management: Auditory Problems24. Assessment: Integumentary System25. Integumentary Problems26. BurnsSection Six: Problems of Oxygenation: Ventilation27. Assessment: Respiratory System28. Supporting Ventilation NEW!29. Upper Respiratory Problems30. Lower Respiratory Problems31. Obstructive Pulmonary Diseases32. Respiratory Failure and ARDSSection Seven: Problems of Oxygenation: Transport33. Assessment: Hematologic System34. Hematologic ProblemsSection Eight: Problems of Oxygenation: Perfusion35. Assessment: Cardiovascular System36. Hypertension37. Coronary Artery Disease and Acute Coronary Syndrome38. Heart Failure39. Dysrhythmias40. Inflammatory and Structural Heart Disorders41. Vascular Disorders42. Shock, Sepsis, and MODSSection Nine: Problems of Ingestion, Digestion, Absorption, and Elimination43. Assessment: Gastrointestinal System44. Nutrition Problems45. Obesity46. Upper Gastrointestinal Problems47. Lower Gastrointestinal Problems48. Liver, Biliary Tract, PancreasSection Ten: Problems of Urinary Function49. Assessment: Urinary System50. Renal and Urologic Problems51. Acute Renal Failure and Chronic Kidney DiseaseSection Eleven: Problems Related to Regulatory and Reproductive Mechanisms52. Assessment: Endocrine System53. Diabetes Mellitus54. Endocrine Problems55. Assessment: Reproductive System56. Breast Disorders57. Sexually Transmitted Infections58. Female Reproductive Problems59. Male Reproductive ProblemsSection Twelve: Problems Related to Movement and Coordination60. Assessment: Nervous System61. Acute Intracranial Problems62. Stroke63. Chronic Neurologic Problems64. Dementia and Delirium65. Spinal Cord and Peripheral Nerve Problems66. Assessment: Musculoskeletal System67. Musculoskeletal Trauma and Orthopedic Surgery68. Musculoskeletal Problems69. Arthritis and Connective Tissue DiseasesAppendixesA: Basic Life Support for Health Care ProvidersB: Nursing DiagnosesC: Laboratory Reference IntervalsIndex

Mariann M. Harding, PhD, RN, CNE, FAADN, Professor of Nursing Technology, Kent State University Tuscarawas, New Philadelphia, Ohio, Jeffrey Kwong, DNP, MPH, AGPCNP-BC, FAANP, FAAN, Professor, Division of Advanced Nursing Practice, School of Nursing, Rutgers University, Newark, New Jersey, Debra Hagler, PhD, RN, ACNS-BC, CNE, CHSE, ANEF, FAAN, Clinical Professor,Edson College of Nursing and Health Innovation,Arizona State University,Phoenix, Arizona and Courtney Reinisch, RN, DNP, FNP-BC, Director of Undergraduate Nursing, School of Nursing, Montclair State University, Montclair, New Jersey

This product is available in the following formats:
Any student who attempts to register for access will be reported to the school's faculty and administration.