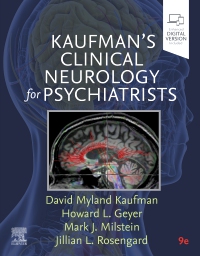 Publication Date:
05-06-2022
Kaufman's Clinical Neurology for Psychiatrists, 9th Edition
Hardcover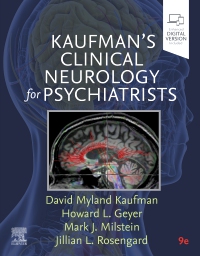 Publication Date:
05-06-2022
Discusses timely, clinically-relevant topics such as chronic and acute traumatic brain injury, Alzheimer's disease, correctible causes of dementia, violence, neurologic illnesses that present with symptoms of autism, illicit drug use, stroke, migraine, Parkinson's disease, tardive dyskinesia current treatments, and more.

Includes nearly 2,000 multiple-choice questions both in print and online—all written to help you succeed on the ABPN certifying exam.

Features new content, new and improved clinical illustrations: life-like patient sketches, anatomy line drawings, CTs, MRIs, and EEGs.

Explains each condition's neurologic and psychiatric features, easily performed office and bedside examinations, appropriate tests, differential diagnosis, and management options.

Correlates neurologic illnesses with the DSM-5.

Enhanced eBook version included with purchase. Your enhanced eBook allows you to access all of the text, figures, and references from the book on a variety of devices.

1 First Encounter with a Patient: Examination and Formulation
2 Central Nervous System Disorders
3 Psychogenic Neurologic Deficits
4 Cranial Nerve Disorders
5 Peripheral Nerve Disorders
6 Muscle Disorders
7 Dementia
8 Aphasia and Related Disorders
9 Headaches
10 Epilepsy
11 TIAs and Strokes
12 Visual Disturbances
13 Congenital Cerebral Impairments
14 Neurologic Aspects of Chronic Pain
15 Multiple Sclerosis
16 Neurologic Aspects of Sexual Function
17 Sleep Disorders
18 Involuntary Movement Disorders
19 Brain Tumors, Metastatic Cancer, and Paraneoplastic Syndromes
20 Lumbar Puncture and Imaging Studies
21 Neurotransmitters and Drug Abuse
22 Traumatic Brain Injury
Appendix 1
Appendix 2
Appendix 3
Appendix 4
Additional Review Questions and Answers
Index

David Myland Kaufman, MD, Professor of Neurology and Psychiatry, Albert Einstein College of Medicine; Director of Neurology, Montefiore Medical Center, Bronx, NY, USA, Howard L. Geyer, Mark J Milstein, MD, Department of Neurology, Montefiore Medical Center, Albert Einstein College of Medicine, Bronx, New York and Jillian Rosengard, Albert Einstein College of Medicine and Montefiore Medical Center, NY U.S.A.