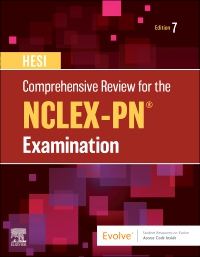 Publication Date:
01-19-2023
Comprehensive Review for the NCLEX-PN® Examination, 7th Edition
Paperback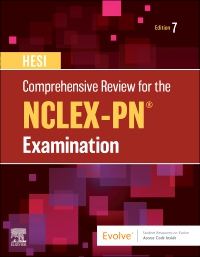 Publication Date:
01-19-2023
HESI Comprehensive Review for the NCLEX-PN® Examination, 7th Edition provides a complete, all-in-one review of the information that you need to know. Written in an easy-to-read outline format, this study guide reviews content by concepts and clinical areas. Along the way, valuable tips from HESI® help you apply principles of clinical decision-making and clinical judgment. With almost 1,000 practice questions in both study and exam formats, the companion Evolve website enables you to practice test-taking in the same electronic format you will experience on nursing school exit exams and on the NCLEX-PN exam.
HESI Hint boxes spotlight important clinical information and concepts commonly tested on the NCLEX-PN® exam.
Chapters organized by clinical area enable you to easily search for various topics to review.
Clinical judgment study questions with rationales reinforce key concepts and content.
Consistent format and chapter organization make it easy to move between topics when reviewing.

UPDATED! Content incorporates clinical updates and reflects the latest NCLEX-PN® test plan.
UPDATED! Enhanced Evolve companion website with over 100 new questions for the NGN and almost 900 review questions for the NCLEX provides you with additional test-taking practice.
NEW! Illustrated NCSBN Clinical Judgment Measurement Model with corresponding Test-Taking Strategies highlight how to apply clinical judgment.
NEW! Questions for the Next-Generation NCLEX® (NGN) prepare you for the biggest change to the NCLEX-PN® test plan to date.
NEW! All-new editorial board rejuvenates this classic text with fresh perspectives and expertise to make a great book even better.

1. Introduction to Testing and the NCLEX-PN® Exam
2. Leadership and Management: Legal Aspects of Nursing
3. Advanced Clinical Concepts
4. Medical-Surgical Nursing
5. Pediatric Nursing
6. Maternity Nursing
7. Psychiatric Nursing
8. Gerontologic Nursing
Appendix A: Normal Values
Appendix B: Answers to Review Questions
Index

HESI and Denise M. Korniewicz, PhD, RN, FAAN, Adjunct Professor, Passan School of Nursing, Wilkes University, Wilkes-Barre, Pennsylvania.