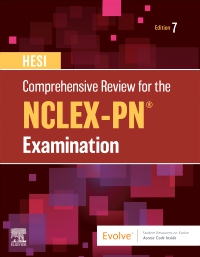 Publication Date:
02-28-2023
Evolve Resources for Comprehensive Review for the NCLEX-PN® Examination, 7th Edition
Resources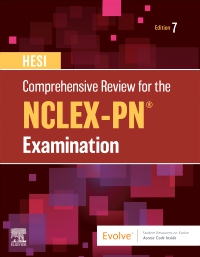 Publication Date:
02-28-2023
Or $0.00 with a valid access code
Free with purchase of new corresponding textbook
Student Resources on Evolve
Approximately 1,000 review questions for the NCLEX
1. Introduction to Testing and the NCLEX-PN® Exam
2. Leadership and Management: Legal Aspects of Nursing
3. Advanced Clinical Concepts
4. Medical-Surgical Nursing
5. Pediatric Nursing
6. Maternity Nursing
7. Psychiatric Nursing
8. Gerontologic Nursing
Appendix A: Normal Values
Appendix B: Answers to Review Questions

HESI and Denise M. Korniewicz, PhD, RN, FAAN, Adjunct Professor, Passan School of Nursing, Wilkes University, Wilkes-Barre, Pennsylvania.
Or $0.00 with a valid access code
Free with purchase of new corresponding textbook