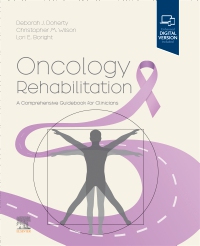 Publication Date:
07-23-2022
Oncology Rehabilitation Elsevier E-Book on VitalSource, 1st Edition
Elsevier eBook on VitalSource
Publication Date:
07-23-2022
Provide students with the evidence-based intervention techniques needed to care for persons diagnosed and living with and beyond cancer! Oncology Rehabilitation: A Comprehensive Guidebook for Clinicians describes the adverse effects caused by cancer treatment and shows how to use oncology rehabilitation to optimize the quality of life for persons living with and beyond cancer at all stages of life. Guidelines help you build skills in pre-diagnosis, prevention of cancer-related fatigue and pain, active treatment, and end-of-life care, all as an integral part of an interdisciplinary cancer management team. Written by physical therapists for physical therapists, this text provides best practices for manual therapy, exercise testing and exercise programs, and treatment of adverse effects by body system throughout the patient's cancer journey.
Coverage of physical therapy patient management includes acute care, outpatient, and multidisciplinary clinical settings, along with in-depth therapeutic management interventions.
Content on the continuum of cancer care addresses the primordial, primary, secondary, tertiary, and quaternary stages in prevention and treatment.
Focus on clinicians includes the professional roles, responsibilities, self-care, and values of the oncology rehabilitation clinician as an integral member of the cancer care team.
Information on inseparable contextual factors helps in dealing with administrative infrastructure and support, advocacy, payment, and reimbursement of rehabilitation as well as public policy.
Evidence Summary and Key Points boxes highlight important information for quick, at-a-glance reference.
Clinical case studies and review questions enhance your critical thinking skills and help you prepare for board certification, specialty practice, and/or residency.
Enhanced eBook version— included with print purchase— allows you to access all of the text, figures, and references from the book on a variety of devices.
Resources in the eBook include videos, board-review questions, case studies, and a curriculum map to highlight and demonstrate the correlation to the requirements for Oncology Rehabilitation Residency programs and the board certification exam.
Guidebook approach provides immediate, meaningful application for the practicing oncology rehabilitation clinician.

Unit I: Foundational Oncology Concepts
1 Fundamentals of Cancer
2 Foundations of Oncology Rehabilitation
3 Evidence-Based Practice in Oncology Rehabilitation
4 The Biological Basis and Diagnostic Evaluation of Cancer
5 Medical Management and Cancer Treatments
6 Pharmacological Principles in Cancer Care
Unit II: Adverse Effects of Oncologic Treatment by System
7 Musculoskeletal System
8 Neurological System
9 Lymphatic and Integumentary Systems
10 Cardiovascular and Pulmonary Systems
11 Gastrointestinal System
12 Genitourinary and Gynecological Systems
13 Immune System
14 Psychosocial Considerations
Unit III: Management of Common Oncologic Diagnoses
15 Breast Cancer
16 Genitourinary and Gynecological Cancers
17 Colorectal Cancer
18 Lung Cancer
19 Head and Neck Cancers
20 Bone and Soft Tissue Sarcomas
21 Hematological Cancers
Unit IV: Important Considerations
22 Cancer Pain
23 Exercise Testing, Prescription, and Intervention
24 Acute Care and Inpatient Management
25 Pediatric Cancer Management
26 Young Cancer Survivors
27 Prehabilitation
28 Long-Term Survivorship and Late Effect Management
29 Palliative and End of Life Care
30 Wellness, Health Promotion, and Prevention
Unit V: Administrative Aspects of Oncology Rehabilitation
31 Building and Sustaining an Oncology Rehabilitation Program

Deborah Doherty, Chris Wilson and Lori Boright