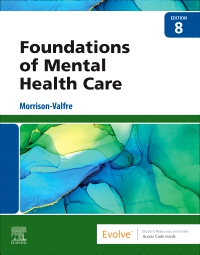 Publication Date:
09-07-2022
Foundations of Mental Health Care - Elsevier eBook on Vitalsource, 8th Edition
Elsevier eBook on VitalSource
Publication Date:
09-07-2022
Provide the fundamental knowledge and skills your students need to care for clients with mental health disorders! Foundations of Mental Health Care, 8th Edition uses an easy-to-read, multidisciplinary approach to describe the treatment of clients with a wide range of maladaptive behaviors. Ideal for LPN/LVNs and other caregivers, this guide provides concise coverage of issues and principles, therapeutic interventions, mental health problems throughout the lifecycle, and specific psychological and psychosocial conditions. This edition is updated with the latest information on violence, suicide, substance abuse, and more. Not only does this resource prepare students for success on the NCLEX-PN® exam and in LPN/LVN practice, but it helps build skills in mental health assessment, effective communication, and the therapeutic relationship.
DSM-5 criteria are used in the descriptions of all mental health disorders.
Sample client care plans show how members of the health care team work collaboratively to meet client needs.
Case studies provide realistic client scenarios that illustrate chapter concepts and strengthen critical thinking.
Therapeutic interventions include multidisciplinary and holistic treatment, medical management, application of the nursing process, and pharmacologic therapy.
Critical Thinking boxes contain thought-provoking client issues and questions, helping you develop skills in clinical reasoning.
Drug Alert boxes identify the risks and possible adverse reactions of psychotherapeutic medications.
Cultural Consideration boxes highlight cultural issues and address the mental health needs of culturally diverse clients.
Get Ready for the NCLEX® Examination sections include key points, additional learning resources, and NCLEX-PN review questions with answers on the Evolve website, all designed to prepare you for success on classroom and licensure exams.
Key terms at the beginning of each chapter introduce difficult medical, nursing, or scientific terms, and include page number references and phonetic pronunciations.
Study Guide on the Evolve website reinforces your understanding of important concepts from the text. Included free with textbook purchase.

NEW! Next-Generation NCLEX® case studies and new format questions help you prepare for success on the NCLEX-PN® examination.
NEW! Updated coverage keeps you current with the latest issues and approaches to mental health care in the United States, and includes new information on violence, suicide, physical abuse, substance abuse, and schizophrenia.

UNIT I MENTAL HEALTH CARE: PAST AND PRESENT
1 The History of Mental Health Care
2 Current Mental Health Care Systems
3 Ethical and Legal Issues
4 Sociocultural Issues
5 Theories and Therapies
6 Complementary and Alternative Therapies
7 Psychotherapeutic Drug Therapy
UNIT II THE CAREGIVER'S THERAPEUTIC SKILLS
8 Principles and Skills of Mental Health Care
9 Mental Health Assessment Skills
10 Therapeutic Communication
11 The Therapeutic Relationship
12 The Therapeutic Environment
UNIT III MENTAL HEALTH THROUGHOUT
13 Problems of Childhood
14 Problems of Adolescence
15 Problems of Adulthood
16 Problems of Late Adulthood
17 Cognitive Impairment, Alzheimer's Disease, and Dementia
UNIT IV CLIENTS WITH PSYCHOLOGICAL PROBLEMS
18 Managing Anxiety
19 Illness and Hospitalization
20 Loss and Grief
21 Depression and Other Mood Disorders
22 Physical Problems, Psychological Sources
23 Eating and Sleeping Disorders
24 Dissociative Disorders
UNIT V CLIENTS WITH PSYCHOSOCIAL PROBLEMS
25 Anger and Aggression
26 Outward-Focused Emotions: Violence
27 Inward-Focused Emotions: Suicide
28 Substance-Related Disorders
29 Sexuality, Gender Identity, and Sexual Disorders
30 Personality Disorders
31 Schizophrenia and Other Psychoses
32 Chronic Mental Health Disorders
33 Challenges for the Future
Appendix
Index

Michelle Morrison-Valfre, RN, BSN, MHS, FNP, Health Care Educator/Consultant, Heatlh and Education Consultants, Forest Grove, OR