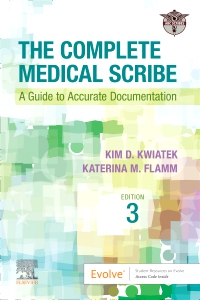 Publication Date:
01-13-2022
The Complete Medical Scribe - Elsevier E-Book on VitalSource, 3rd Edition
Elsevier eBook on VitalSource
Publication Date:
01-13-2022
Expand your students' career opportunities with this concise, all-in-one guide to success as a Medical Scribe! The Complete Medical Scribe: A Guide to Accurate Documentation, 3rd Edition provides the information needed to document patient health records accurately, thoroughly, and efficiently. Coverage includes activities such as creating a note, recording a patient history and review of systems, documenting diagnostic tests and therapeutic procedures, and noting follow-ups for labs or imaging. A strong foundational knowledge of anatomy and body systems is emphasized. Designed to fill the need for standardized medical scribe training, this comprehensive guide prepares students to become essential members of the healthcare team in a variety of settings.
Comprehensive coverage includes everything you need to know to work as a medical scribe, including medical law and ethics, safety and infection control, health record documentation, billing and reimbursement requirements, medical terminology basics, and detailed body system coverage.
Clinical scenarios represent common situations and promote real-world application of the scribe's function.
Case studies with questions test your comprehension and let you apply your knowledge to the clinical setting.
Review questions and exercises within chapters and online provide opportunities for self-quizzing to identify areas of strength and areas of focus.
Nearly 200 colorful medical illustrations and photos depict subjects such as anatomy and physiology as well as online charting within the electronic health record (EHR).
Detailed instructional videos online simulate medical practice, using real doctor-patient encounters that progress logically through each part of the EHR.
Notes boxes emphasize practice dos and don'ts along with on-the-job realities.

Role of the Medical Scribe
Healthcare Law, Ethics, and Organization
Overview of the Scribe Note
Anatomy of a Provider Note
Synthesis of a Patient History
Additional Functions of the Medical Scribe
Medical Terminology and Abbreviations
The Physical Exam
Integumentary System
Musculoskeletal System
HEENT (Head, Eyes, Ears, Nose, Throat)
Nervous System
Cardiovascular System
Respiratory System
Gastrointestinal System
Genitourinary System
Hematologic, Lymphatic, and Immune Systems
Endocrine System
Chief Complaints
Practice Exercises

ABC Scribes, LTD