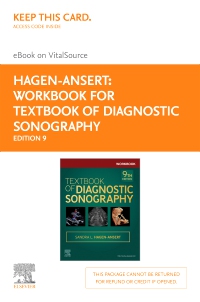 Publication Date:
11-30-2022
Workbook for Textbook of Diagnostic Sonography Elsevier eBook on VitalSource (Retail Access Card), 9th Edition
Elsevier eBook on VitalSource - Access Card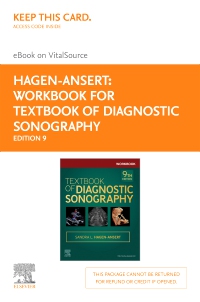 Publication Date:
11-30-2022
This item has low stock levels and may be back-ordered. We'll let you know if it is back-ordered, and you will not be charged until the item ships.
Reinforce student understanding of Hagen-Ansert's Textbook of Diagnostic Sonography, 9th Edition with this practical workbook! With chapters corresponding to the textbook, this study guide provides exercises allowing students to review, practice, and apply sonography concepts. Case studies offer opportunities to apply knowledge to the clinical setting. Like the text, this edition of the workbook includes updated images and scans, in addition to content that reflects the newest curriculum standards. It's a useful review and an excellent preparation tool for national board examinations in diagnostic sonography!
Review questions are presented in a variety of formats, including multiple-choice, matching, short answer, fill-in-the-blank, and labeling, with answers at the back of the book.
Exercises in each chapter provide review and practice with terminology, anatomy, physiology, laboratory values, sonographic anatomy and technique, and pathology.
Anatomy labeling activities test your ability to recognize anatomic structures in sonographic images.
Review of key terms in each chapter allows you to test your knowledge of the terminology used in the textbook.
Case studies include images from the textbook, testing your skills at identifying key anatomy and pathology and in interpreting sonographic findings.
Content reviews include multiple-choice questions to test your knowledge of the four main content areas covered on ARDMS board exams: general sonography, pediatric, cardiovascular anatomy, and obstetrics and gynecology.

NEW! Updated content keeps pace with the 9th edition of Textbook of Diagnostic Sonography, reflecting the newest curriculum standards and preparing you for the national board examinations.
NEW! Updated images and scans reflect the latest advances in the field and help you prepare for boards and for clinicals.

1 Foundations of Sonography
2 Essentials of Patient Care for the Sonographer
3 Ergonomics and Musculoskeletal Issues in Sonography
4 Anatomic and Physiologic Relationships Within the Abdominal-Pelvic Cavity
5 Comparative Sectional Anatomy of the Abdominal-Pelvic Cavity
6 Basic Ultrasound Imaging: Techniques, Terminology, and Tips
7 Imaging and Doppler Artifacts
8 The Vascular System
9 The Liver
10 The Gallbladder and the Biliary System
11 The Spleen
12 The Pancreas
13 The Gastrointestinal Tract
14 The Peritoneal Cavity and Abdominal Wall
15 The Urinary System
16 The Retroperitoneum
17 Abdominal Applications of Ultrasound Contrast Agents
18 Ultrasound-Guided Interventional Techniques
19 Emergent Abdominal Ultrasound Procedures
20 Sonographic Techniques in the Transplant Patients
21 The Breast
22 The Thyroid and Parathyroid Glands
23 The Scrotum
24 The Musculoskeletal System
25 Neonatal and Pediatric Abdomen
26 Neonatal and Pediatric Adrenal and Urinary System
27 Neonatal Echoencephalography
28 The Neonatal Hip
29 Neonatal and Infant Spine
30 Anatomic and Physiologic Relationships Within the Thoracic Cavity
31 Hemodynamics
32 Echocardiography: Techniques, Terminology, and Tips
33 Introduction to Clinical Echocardiography: Left Side Valvular Heart Disease
34 Introduction to Clinical Echocardiography: Pericardial Disease, Cardiomyopathies, and Tumors

Sandra L. Hagen-Ansert, MS, RDMS, RDCS, FASE, FSDMS, Cardiology Department, Supervisor, Echo Lab, Scripps Clinic - Torrey Pines, California.