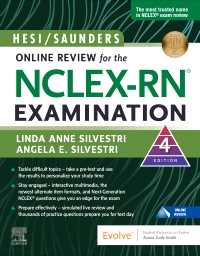 Publication Date:
07-26-2023
HESI/Saunders Online Review for the NCLEX-RN Examination (2 Year), 4th Edition
Online Course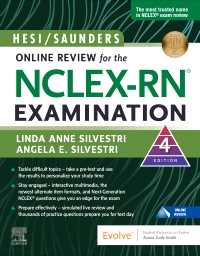 Publication Date:
07-26-2023
Any student who attempts to register for access will be reported to the school's faculty and administration.
It's the smart way for students to review for the NCLEX-RN® examination! From the most trusted names in NCLEX® exam review, HESI/Saunders Online Review for the NCLEX-RN® Examination, 4th Edition makes test prep easy with ten interactive modules and HESI Live Review videos, along with more than 2,500 practice questions, single-episode and unfolding NGN case studies, realistic practice exams, and useful test-taking tips and strategies. What's more, a personalized study calendar helps students to enjoy flexible, self-paced study. Designed by noted NCLEX experts Linda Anne and Angela Silvestri, and updated to reflect the latest NCLEX-RN test plan, this online review will help your students pass the NCLEX-RN exam on the first try!
Trusted content of the bestselling Silvestri NCLEX® titles and HESI Live Review courses is provided in a convenient and interactive online format.
Ten review modules are organized by the most recent NCLEX-RN® test plan and comprise 50 content lessons in concise bulleted format, with key terms and definitions, self-check questions, and case studies throughout, as well as images, animations, and video clips of skills and procedures.
Brief video clips mimic an actual HESI Live Review course, with videos featuring experienced nursing instructors explaining challenging topics and difficult concepts, plus images and sample questions.
More than 2,500 practice questions include all alternate item format types and NGN question types, featuring multiple response, prioritizing, fill-in-the-blank, hot spot/illustration, graphic option, chart/exhibit, audio, video, single-episode case studies, and unfolding case studies.
Ten 100-question Module Exams evaluate your mastery of core nursing content.
Five 100-question Crossing the Finish Line: Practice Exams and a 135-question comprehensive exam provide a "dry run" for the board exam.
75-question diagnostic pre-test identifies your strengths and weaknesses before beginning the actual course and generates a study plan tailored to your specific needs.
Choices for reviewing nursing content include three separate ways — by client needs, concept-based, or content area — allowing you to approach the content in the way that best fits your needs.

NEW! Next Generation NCLEX® (NGN)-style questions prepare you for the test's new emphasis on clinical judgment — the biggest change to the NCLEX-RN® test plan to date.
NEW! Current NCLEX-RN® test plan is incorporated into the course, covering the newly added content you may encounter on the exam.
NEW! Brand-new Transitions into Practice lesson in the Management of Care module covers leadership theory, preparing for interviews, and resume building.

Test-Taking Strategies The Test Plan Pre-Test Study Calendar Instructor Implementation Guide Module 1 – Developmental Stages and Transitions 1. Infant, Child, and Adolescent 2. Early Adulthood, Middle-Adulthood, and Later Adulthood 3. Family Systems and Family Dynamics 4. Maternity Client: Antepartum Care 5. Maternity Client: Intrapartum Care 6. Maternity Client: Postpartum Care 7. Care of the Newborn Module 1 Exam Module 2 – Health Promotion and Disease Prevention 8. Health and Wellness/Teaching and Learning 9. Lifestyle Choices and Health Risks 10. Health Care Disparities and Population Groups 11. Health Assessment and Physical Examination 12. Foundations of Mental Health Nursing Module 2 Exam Module 3 – Mental Health Concepts 13. Coping and Defense Mechanisms 14. Stress Management 15. Grief and Loss 16. End-of-Life Care Module 3 Exam Module 4 – Psychosocial Alterations 17. Mental Health Disorders 18. Crisis Intervention 19. Chemical and Other Dependencies 20. Violence, Abuse, and Neglect Module 4 Exam Module 5 – Management of Care 21. Ethical and Legal Issues 22. Advance Directives and Informed Consent 23. Confidentiality and Information Technology/Security 24. Client Rights 25. Concepts of Management 26. Transitions into Practice 27. Principles of Delegation and Prioritization of Care Module 5 Exam Module 6 – Safety and Infection Control 28. Providing a Secure and Safe Environment 29. Emergency Response Plans, Disasters, and Triage 30. Standard and Transmission-Based Precautions and Surgical Asepsis 31. Use of Restraints and Safety Devices Module 6 Exam Module 7 – Basic Care and Comfort 32. Basic Needs 33. Mobility, Immobility, and Assistive Devices 34. Nonpharmacological Interventions for Physical Pain Module 7 Exam Module 8 – Pharmacology and Intravenous Therapies 35. Medication Administration and Dose Calculations 36. Administering Blood Products 37. Intravenous Therapies 38. Parenteral Nutrition 39. Medication Classifications Module 8 Exam Module 9 – Monitoring for Health Problems 40. Vital Signs 41. Diagnostic Tests, Treatments, and Procedures 42. Laboratory Values 43. Perioperative Care Module 9 Exam Module 10 – Physiological Health Problems 44. Fluid and Electrolyte Imbalances 45. Acid-Base Balance 46. Hemodynamics 47. Medical Emergencies 48. Adult Health Conditions 49. High-Risk Maternity and Newborn Conditions 50. Pediatric Disorders Module 10 Exam Crossing the Finish Line: Practice Tests Focus on Maternity Exam Focus on Adult Health Exam Focus on Pediatrics Focus on Mental Health Exam Focus on Delegating/Prioritizing/Triage/Disaster Exam Comprehensive Exam Live Review Videos and Next Generation NCLEX® (NGN) Test Items

Linda Anne Silvestri, PhD, RN, ANEF, FAAN, Nursing Instructor, University of Nevada, Las Vegas Las, Nevada; President, Nursing Reviews, Inc. and Professional Nursing Seminars, Inc. Henderson, Nevada; Elsevier Next Generation NCLEX® (NGN) Thought Leader and Angela Silvestri, PhD, APRN, FNP-BC, CNE, Assistant Professor Touro University Nevada-School of Nursing

This product is available in the following formats:
Any student who attempts to register for access will be reported to the school's faculty and administration.