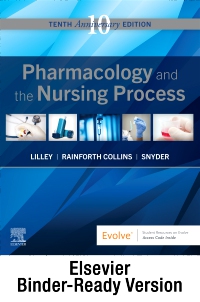 Publication Date:
04-04-2022
Pharmacology and the Nursing Process - Binder Ready, 10th Edition
Binder Ready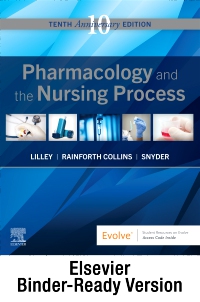 Publication Date:
04-04-2022
Gain the pharmacology knowledge and skills you need to administer medications safely! Pharmacology and the Nursing Process, 10th Edition provides practical, easy-to-use pharmacology information, emphasizing the application of the nursing process and prioritization throughout the book. Coverage begins with pharmacology basics, then discusses drugs by body systems and drug functions. Hundreds of full-color illustrations show how drugs work in the body and depict key steps in medication administration. Written by pharmacology experts Linda Lane Lilley, Shelly Rainforth Collins, and Julie S. Snyder, this bestselling textbook makes it easy to understand and apply pharmacology concepts and provide safe, quality nursing care.
Focus on need-to-know information includes discussions of what nurses may encounter during drug administration in a variety of health care settings, providing accounts of real-life medication errors and tips for avoiding those errors.
The Nursing Process is applied to each category of drugs, ensuring that you administer medications accurately and safely, and includes the steps of assessment, human need statements, planning, implementation, and evaluation.
Emphasis on drug classes describes key similarities and differences among the drugs in each class, making it easier to understand how individual drugs work in the body.
Consistent presentation for each drug group includes the mechanism of action, indications, contraindications, adverse effects, interactions, and dosages, concluding with drug profiles of individual drugs in the class or group.
High-alert icons identify medications that pose a greater risk to patient safety.
Focus on prioritization includes prioritized nursing diagnoses along with a corresponding prioritization of goals and outcomes, to help you learn to connect nursing diagnoses with goals and outcomes.
Ease of readability makes difficult content more understandable.
Photo atlas features more than 100 drawings and photographs showing drug administration techniques.
Dosages tables summarize generic and trade names, pharmacologic class, normal dosage ranges, and indications for the drugs.
Learning features at the beginning of each chapter include objectives and key terms, and at the end of each chapter, key points, critical thinking questions, review questions, and a list of resources available on the Evolve website.
QSEN coverage includes the use of human need theory with human need statements, case studies featuring collaboration and teamwork content, Preventing Medication Errors boxes, and a discussion of the QSEN initiative as it relates to the safety and quality of patient care.

NEW! Updated drug content reflects the latest FDA drug approvals, withdrawals, and therapeutic uses, and includes updated nursing content.

PART 1: PHARMACOLOGY BASICS

1 The Nursing Process and Drug Therapy

2 Pharmacologic Principles

3 Lifespan Considerations

4 Cultural, Legal, and Ethical Considerations

5 Medication Errors: Preventing and Responding

6 Patient Education and Drug Therapy

7 Over-the-Counter Drugs and Herbal and Dietary Supplements

8 Gene Therapy and Pharmacogenomics

9 Photo Atlas of Drug Administration

PART 2: DRUGS AFFECTING THE CENTRAL NERVOUS SYSTEM

10 Analgesic Drugs

11 General and Local Anesthetics

12 Central Nervous System Depressants and Muscle Relaxants

13 Central Nervous System Stimulants and Related Drugs

14 Antiepileptic Drugs

15 Antiparkinson Drugs

16 Psychotherapeutic Drugs

17 Substance Use Disorder

PART 3: DRUGS AFFECTING THE AUTONOMIC NERVOUS SYSTEM

18 Adrenergic Drugs

19 Adrenergic-Blocking Drugs

20 Cholinergic Drugs

21 Cholinergic-Blocking Drugs

PART 4: DRUGS AFFECTING THE CARDIOVASCULAR AND RENAL SYSTEMS

22 Antihypertensive Drugs

23 Antianginal Drugs

24 Heart Failure Drugs

25 Antidysrhythmic Drugs

26 Coagulation Modifier Drugs

27 Antilipemic Drugs

28 Diuretic Drugs

29 Fluids and Electrolytes

PART 5: DRUGS AFFECTING THE ENDOCRINE AND REPRODUCTIVE SYSTEMS

30 Pituitary Drugs

31 Thyroid and Antithyroid Drugs

32 Antidiabetic Drugs

33 Adrenal Drugs

34 Women's Health Drugs

35 Men's Health Drugs

PART 6: DRUGS AFFECTING THE RESPIRATORY SYSTEM

36 Antihistamines, Decongestants, Antitussives, and Expectorants

37 Respiratory Drugs

PART 7: ANTIINFECTIVE AND ANTIINFLAMMATORY DRUGS

38 Antibiotics Part 1

39 Antibiotics Part 2

40 Antiviral Drugs

41 Antitubercular Drugs

42 Antifungal Drugs

43 Antimalarial, Antiprotozoal, and Anthelmintic Drugs

44 Antiinflammatory and Antigout Drugs

PART 8: CHEMOTHERAPEUTIC DRUGS AND BIOLOGIC AND IMMUNE MODIFIERS

45 Antineoplastic Drugs Part 1: Cancer Overview and Cell Cycle–Specific Drugs

46 Antineoplastic Drugs Part 2: Cell Cycle–Nonspecific Drugs and Miscellaneous Drugs

47 Biologic Response–Modifying and Antirheumatic Drugs

48 Immunosuppressant Drugs

49 Immunizing Drugs

PART 9: DRUGS AFFECTING THE GASTROINTESTINAL SYSTEM AND NUTRITION

50 Acid-Controlling Drugs

51 Bowel Disorder Drugs

52 Antiemetic and Antinausea Drugs

53 Vitamins and Minerals

54 Anemia Drugs

55 Nutritional Supplements

PART 10: DERMATOLOGIC, OPHTHALMIC, AND OTIC DRUGS

56 Dermatologic Drugs

57 Ophthalmic Drugs

58 Otic Drugs

Appendix: Pharmaceutical Abbreviations

Index

Linda Lane Lilley, RN, PhD, Associate Professor Emeritus, School of Nursing, Old Dominion University, Virginia Beach, Virginia, Shelly Rainforth Collins, PharmD, Clinical Pharmacy Specialist and Coordinator of Clinical Pharmacy Services, Chesapeake Regional Medical Center; President, Drug Information Consultants, Chesapeake, Virginia and Julie S. Snyder, MSN, RN-BC, Performance Improvement Coordinator, Chesapeake Regional Medical Center, Chesapeake, Virginia; Adjunct Faculty, School of Nursing, Old Dominion University, Norfolk, Virginia.