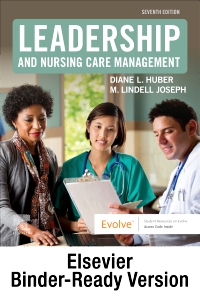 Publication Date:
06-23-2021
Leadership and Nursing Care Management - Binder Ready, 7th Edition
Binder Ready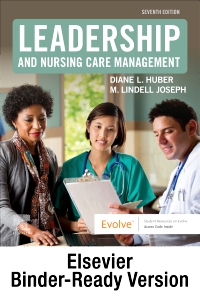 Publication Date:
06-23-2021
Binder-Ready Edition: This loose-leaf copy of the full text is a convenient, accessible, and customizable alternative to the bound book. With this binder-ready edition, students can personalize the text to match their unique needs!
Develop your management and nursing leadership skills! Leadership & Nursing Care Management, 7th Edition focuses on best practices to help you learn to effectively manage interdisciplinary teams, client needs, and systems of care. A research-based approach includes realistic cases studies showing how to apply management principles to nursing practice. Arranged by American Organization for Nursing Leadership (AONL) competencies, the text addresses topics such as staffing and scheduling, budgeting, team building, legal and ethical issues, and measurement of outcomes. Written by noted nursing educators Diane L. Huber and Maria Lindell Joseph, this edition includes new Next Generation NCLEX® content to prepare you for success on the NGN certification exam.
UNIQUE! Organization of chapters by AONL competencies addresses leadership and care management topics by the five competencies integral to nurse executive roles.
Evidence-based approach keeps you on the cutting edge of the nursing profession with respect to best practices.
Critical thinking exercises at the end of each chapter challenge you to reflect on chapter content, critically analyze the information, and apply it to a situation.
Case studies at the end of each chapter present real-world leadership and management vignettes and illustrate how concepts can be applied to specific situations.
Research Notes in each chapter summarize current research studies relating to nursing leadership and management.
Full-color photos and figures depict concepts and enhance learning.

NEW! Updates are included for information relating to the competencies of leadership, professionalism, communication and relationship building, knowledge of the healthcare environment, and business skills.
NEW! Five NGN-specific case studies are included in this edition to align with clinical judgment content, preparing you for the Next Generation NCLEX® (NGN) examination.
NEW contributors — leading experts in the field — update the book's content.

PART I: Leadership
1. Leadership and Management Principles
2. Change and Innovation
3. Organizational Climate and Culture
4. Managerial Decision-Making
PART 2: Professionalism
5. Managing Time and Stress
6. Role Management
7. Legal and Ethical Issues
PART III: Communication Leadership
8. Communication Leadership
9. Team Building and Working with Effective Groups
10. Power and Conflict
11. Workplace Diversity and Inclusion
PART IV: Knowledge of the Health Care Environment
12. Organizational Structure
13. Decentralization and Governance
14. Strategic Management
15. Professional Practice Models
16. Case and Population Management
17. Nursing Leadership for Evidence-Based Practice
18. Quality and Safety
19. Measuring and Managing Outcomes
PART V: Business Skills
20. Prevention of Workplace Violence
21. Nursing Workforce Staffing and Management
22. Budgeting, Productivity and Costing Out Nursing
23. Performance Appraisal
24. Emergency Management and Preparedness
25. Nursing Informatics for Leaders in Clinical Nursing
26. Marketing

Diane Huber, PhD, RN, NEA-BC, FAAN, Professor Emeritus College of Nursing and College of Public Health The University of Iowa, Iowa City, Iowa and M. Lindell Joseph, PhD, RN, FAONL, FAAN, Clinical Professor, Director, Health Systems/Administration Program College of Nursing University of Iowa, Iowa City, Iowa