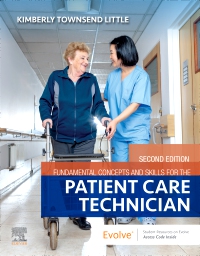 Publication Date:
08-17-2022
Evolve Resources for Fundamental Concepts and Skills for the Patient Care Technician, 2nd Edition
Resources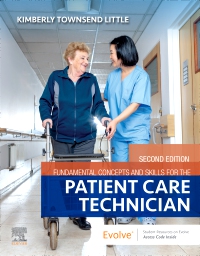 Publication Date:
08-17-2022
Any student who attempts to register for access will be reported to the school's faculty and administration.
Educator Resources on Evolve
TEACH Instructor Resources including lesson plans, PowerPoint® slides, student handouts, and answer keys
Image collection
Test bank
Student Resources on Evolve
More than 50 skills video clips
Skills checklists
350 review questions
SECTION 1: Introduction to Healthcare

Chapter 1 Today's Healthcare

Chapter 2 The Role of the Patient Care Technician

Chapter 3 Professionalism and Work Ethics

Chapter 4 Communicating with the Healthcare Team

SECTION 2: The Patient

Chapter 5 Understanding the Patient as a Person

Chapter 6 Patient Rights, Ethics, and Laws

Chapter 7 Body Structure and Function/Growth and Development

Chapter 8 Pain Management, Comfort, Rest, and Sleep

SECTION 3: Safety

Chapter 9 Asepsis and Infection Control

Chapter 10 Workplace Safety and Body Mechanics

Chapter 11 Patient Safety

Chapter 12 Moving, Positioning, and Preventing Falls

Chapter 13 Basic Emergency Care

SECTION 4: Patient Assessment

Chapter 14 Assisting with the Physical Examination

Chapter 15 Measuring and Recording Vital Signs

Chapter 16 Obtaining and Monitoring an Electrocardiogram

SECTION 5: Patient Care and Comfort

Chapter 17 Assisting with Admission and Discharge

Chapter 18 Bedmaking and Hygiene

Chapter 19 Assisting with Grooming

Chapter 20 Assisting with Medication Administration

Chapter 21 Assisting with Nutrition and Fluids

Chapter 22 Assisting with Urinary Elimination

Chapter 23 Assisting with Bowel Elimination

Chapter 24 Assisting with Oxygen Needs

SECTION 6: Blood and Specimen Collecting and Testing

Chapter 25 Blood Collecting and Processing

Chapter 26 Specimen Collecting and Testing

SECTION 7: Surgery and Immobility

Chapter 27 Care of the Surgical Patient

Chapter 28 Heat and Cold Applications

Chapter 29 Care of Wounds and Pressure Ulcers

Chapter 30 Rehabilitative and Restorative Care

SECTION 8: Special Care Concerns and Settings

Chapter 31 Caring for Women and Children

Chapter 32 Caring for the Older Adult

Chapter 33 Caring for Patients with Mental Health Needs

Chapter 34 Caring for Patients with Chronic Conditions

Chapter 35 End-of-Life Care

Kimberly Townsend Little, PhD, RN, WHNP-BC, CNE, Former Chair of the Graduate Nursing Program at Liberty University.

This product is available in the following formats:
Any student who attempts to register for access will be reported to the school's faculty and administration.