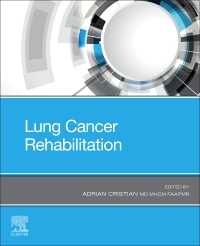 Publication Date:
04-26-2022
Lung Cancer Rehabilitation, 1st Edition
Paperback
Publication Date:
04-26-2022
Most review copies are eBooks – how fast!
This item has low stock levels and may be back-ordered. We'll let you know if it is back-ordered, and you will not be charged until the item ships.
Preface
1 Systemic Therapy and Radiation Therapy in Lung Cancer
2 Cascade of Disability in Lung Cancer
3 Fatigue in lung cancer
4 Peripheral Neuropathy in Lung Cancer
5 Neuromusculoskeletal Complications of Lung Cancer Surgery
6 Cognitive Impairment in Lung cancer
7 Bone and Spinal Metastasis in Lung Cancer
8 Musculoskeletal & Neurological complications of Immunotherapy
9 Psychosocial Distress and Anxiety in Lung Cancer
10 Frailty, Sarcopenia in Lung Cancer and Role of Rehabilitation Medicine
11 The rehabilitation continuum of Care for Lung cancer
12 Exercise in Lung Cancer
13 Pre-rehabilitation in Lung Cancer
14 Functional outcomes in lung cancer rehabilitation
15 Nutritional Rehabilitation in Lung Cancer
16 Telerehabilitation in Lung Cancer
17 Pain Management in Cancer Rehabilitation
18 Palliative Medicine and Pain Management in Lung Cancer
19 Assessment and Treatment of Bone and Spinal Metastasis in Lung Cancer
19 Role of Physical and OccupationalTherapy in Lung Cancer Rehabilitation
19 Surgical Treatment of Lung Cancer
19 Radiation Therapy in the treatment of Lung Cancer
19 Survivorship in Lung Cancer

Adrian Cristian, MD MHCM FAAPMR, Chief, Cancer Rehabilitation, Miami Cancer Institute, Miami, Florida.