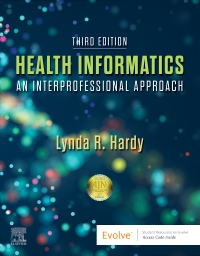 Publication Date:
01-11-2023
Health Informatics - Elsevier eBook on Vitalsource, 3rd Edition
Elsevier eBook on VitalSource
Publication Date:
01-11-2023
Show students how information technology intersects with today's health care! Health Informatics: An Interprofessional Approach, 3rd Edition, follows the tradition of expert informatics educators Ramona Nelson and Nancy Staggers with new lead author, Lynda R. Hardy, to prepare students for success in today's technology-filled healthcare practice. Concise coverage includes information systems and applications, such as electronic health records, clinical decision support, telehealth, mHealth, ePatients, and social media tools, as well as system implementation. New to this edition are topics that include analytical approaches to health informatics, increased information on FHIR and SMART on FHIR, and the use of health informatics in pandemics. This unique text continues to provide the content that garnered the first edition an American Journal of Nursing Book of the Year award!
Chapters written by experts in the field provide the most current and accurate information on continually evolving subjects like evidence-based practice, EHRs, PHRs, mobile health, disaster recovery, and simulation.
Objectives, key terms, and an abstract at the beginning of each chapter provide an overview of what each chapter will cover.
Case studies and discussion questions at the end of each chapter encourage higher-level thinking that can be applied to real world experiences.
Conclusion and Future Directions discussion at the end of each chapter reinforces topics and expands on how the topic will continue to evolve.
Open-ended discussion questions at the end of each chapter enhance students' understanding of the subject covered.
mHealth chapter discusses all relevant aspects of mobile health, including global growth, new opportunities in underserved areas, governmental regulations on issues such as data leaking and mining, implications of patient-generated data, legal aspects of provider monitoring of patient-generated data, and increased responsibility by patients.
Important content, including FDA- and state-based regulations, project management, big data, and governance models, prepares students for one of nursing's key specialty areas.

UPDATED! Chapters reflect the current and evolving practice of health informatics, using real-life healthcare examples to show how informatics applies to a wide range of topics and issues.
NEW! Strategies to promote healthcare equality by freeing algorithms and decision-making from implicit and explicit bias are integrated where applicable.
NEW! The latest AACN domains are incorporated throughout to support BSN, Master's, and DNP programs.
NEW! Greater emphasis on the digital patient and the partnerships involved, including decision-making.

Unit 1: Background and Foundational Information

Informatics as a Profession

Theoretical Foundations of Health informatics

Use of Evidence-Based Practice and Practice-Based Evidence in Informatics

Knowledge Discovery, Data Mining, and Practice-Based Evidence

Program Evaluation and Research Techniques

Unit 2: Information Systems and Applications for Delivery of Health Care

Electronic Health Records and Applications for Managing Patient Care

Administrative Applications in Healthcare Delivery

Telehealth and Applications for Delivering Care at a Distance

Home Health and Related Community-Based Systems

Clinical Decision Support Systems in Healthcare

Public Health Informatics

Organizational Informatics

Technical Infrastructure to Support Healthcare

Unit 3: Participatory Health Care Informatics and Health Care on the Internet

The Engaged Evolving ePatient

Social Networking and Other Web-Based Applications in Healthcare Delivery and Education

Personal Health Records (PHRs)

mHealth

Unit 4: Project Management Tools and Procedures

Project Management Principles and Clinical Systems

Identifying and Selecting an Information System Solution

Implementing and Upgrading an Information System Solution

Health System Downtime and Disaster Recovery

Unit 5: Quality, Usability and Standards in Informatics

Privacy, Confidentiality, and Security

Patient Safety and Quality Initiatives in Informatics

Product Usability and the User Experience

Standards

Unit 6: Governance and Organizational Structures for Informatics

Informatics Governance

Legal Issues, Federal Regulations, and Accreditation

Health Policy and Informatics

Unit 7: Education and Informatics

Informatics in the Curriculum for Healthcare Professionals

Distributive Education: Applications, Techniques, and Issues

Information Systems and Technical Tools in Healthcare Education

Simulation and Virtual Reality in Healthcare Education

Unit 8: International Informatics Efforts

International Efforts, Issues, and Innovations

Unit 9: The Present and Future

Future Directions and Future Research in Health Informatics

Lynda R Hardy, PhD, RN, FAAN, Associate Professor of Clinical Nursing, Director, Data Science and Discovery, The Ohio State University, College of Nursing, Columbus, Ohio, Ramona Nelson, PhD, RN-BC, ANEF, FAAN, Professor Emerita Slippery Rock University Slippery Rock, Pennsylvania President, Ramona Nelson Consulting Allison Park, Pennsylvania and Nancy Staggers, PhD, RN, FAAN, Professor, Informatics School of Nursing University of Maryland Baltimore, Maryland and Adjunct Professor, College of Nursing and Department of Biomedical Informatics University of Utah Salt Lake City, Utah