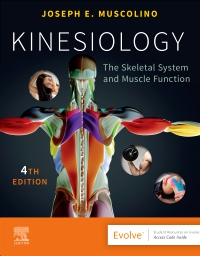 Publication Date:
01-25-2023
Evolve Resources for Kinesiology, 4th Edition
Resources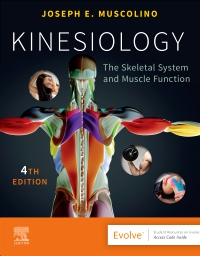 Publication Date:
01-25-2023
Any student who attempts to register for access will be reported to the school's faculty and administration.
Educator Resources on Evolve
TEACH instructor's resources including lesson plans, PowerPoint® lecture slides, student handouts, and answer keys and rationales
Test bank of 1,000 questions
Image collection
Bonus video clip on teaching muscle palpation
Conversion guide
Student Resources on Evolve
More than 150 video clips (kinesiology and palpation demonstration)
New! Instructional videos
Labeling exercises
Answers to the book's review questions
Body systems quick guide
Bony landmark identification exercises
Interactive muscle application
Musculoskeletal anatomy flashcards
Name that Muscle exercises
Radiographs
Stretching customization for clients
Audio files for self-study
Comprehensive glossary
Additional resources, including appendices
Whirlwind tour of the muscles of the proximal thigh
Part I: Fundamentals of Structure and Motion of the Human Body1. Parts of the Human Body2. Mapping the Human Body

Part II: Skeletal Osteology: Study of the Bones3. Skeletal Tissues4. Perspectives of Fascia (New title)5. Bones of the Skeleton

Part III: Skeletal Arthrology: Study of the Joints6. Joint Action Terminology7. Classification of Joints8. Joints of the Axial Body9. Joints of the Lower Extremity10. Joints of the Upper Extremity

Part IV: Myology: Study of the Muscular System11. Attachments and Actions of Muscles12. Anatomy and Physiology of Muscle Tissue13. How Muscles Function - The Big Picture14. Types of Muscle Contractions15. Roles of Muscles16. Types of Joint Motion and Musculoskeletal Assessment17. Determining the Force of a Muscle Contraction18. Biomechanics NEW! 19. Neuromuscular System20. Posture and the Gait Cycle21. Postural Distortion PatternsNEW! 22: Common Musculoskeletal Conditions

22. Stretching23. Strengthening Exercises

Joseph E. Muscolino, DC, Instructor, Purchase College, State University of New York, Purchase, New York; Owner, The Art and Science of Kinesiology, Redding, Connecticut

This product is available in the following formats:
Any student who attempts to register for access will be reported to the school's faculty and administration.