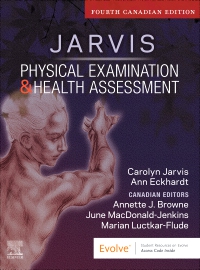 Publication Date:
05-17-2023
Evolve Resources for Physical Examination and Health Assessment, 4th Edition
Resources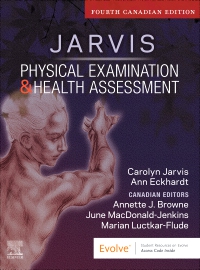 Publication Date:
05-17-2023
Any student who attempts to register for access will be reported to the school's faculty and administration.
Educator Resources on Evolve
Image collection of 1,200 illustrations
ExamView® test bank with more than 1,000 questions, including questions for the NGN
Conversion guide
PowerPoint® lecture slides with case studies and review questions
TEACH for Nurses for RN and PN with lesson plans, performance checklists, critical thinking exercises, teaching strategies, and Next Generation NCLEX® (NGN) content
NEW! Health assessment case studies for the NGN-RN
NEW! Health assessment case studies for the REx-PN®
Video series booklets
Downloads
Student Resources on Evolve
Animations
NEW! Answer keys to Study Guide and Lab Manual
Assessment videos
Audio of abdomen, heart, and lung sounds
Audio glossary
Clinical reference guides
Key points
NEW! Review questions, including case studies for the Next Generation NCLEX® (NGN) for critical reasoning and clinical judgement
NEW! Case studies for the REx-PN®
UNIT 1: ASSESSMENT OF THE WHOLE PERSON
1. Critical Thinking and Evidence-Informed Assessment
2. Health Promotion in the Context of Health Assessment
3. A Relational Approach to Cultural and Social Considerations in Health Assessment
4. The Interview
5. The Complete Health History
6. Mental Health Assessment
7. Substance Use and Health Assessment
8. Interpersonal Violence Assessment and Health Assessment
UNIT 2: APPROACH TO THE CLINICAL SETTING
9. Assessment Techniques and the Clinical Setting
10. General Survey, Measurement, and Vital Signs
11. Pain Assessment
12. Nutritional Assessment and Nursing Practice
UNIT 3: PHYSICAL EXAMINATION
13. Skin, Hair, and Nails
14. Head, Face, and Neck, Including Regional Lymphatic System
15. Eyes
16. Ears
17. Nose, Mouth, and Throat
18. Breasts and Regional Lymphatic System
19. Thorax and Lungs
20. Heart and Neck Vessels
21. Peripheral Vascular System and Lymphatic System
22. The Abdomen
23. Anus, Rectum, and Prostate
24. Musculo-Skeletal System
25. Neurological System
26. Male Genitourinary System
27. Female Genitourinary System
UNIT 4: INTEGRATION OF THE HEALTH ASSESSMENT
28. The Complete Health Assessment
29. Bedside Assessment and Reporting
30. Pregnancy
31. Assessment of the Older Adult
Laboratory Values

Carolyn Jarvis, PhD, APN, CNP, Professor Emerita, School of Nursing, Illinois Wesleyan University; Certified Nurse Practitioner (retired), Bloomington, Illinois, Annette J. Browne, RN, PhD, FCAHS, Professor and Distinguished University Scholar ,Associate Director, Graduate Programs School of Nursing University of British Columbia Vancouver, BC, June MacDonald-Jenkins, RN, BScN, MSc, Sr. Dean Faculty of Social and Community Services Principal, Lakeshore Campus Humber Institute of Technology and Advanced Learning Toronto, Ontario and Marian Luctkar-Flude, RN, BScN, MScN, Associate Professor,Reznick Scholar, Health Professions Education,Faculty of Health Sciences,Queen's University School of Nursing Kingston, Ontario

This product is available in the following formats:
Any student who attempts to register for access will be reported to the school's faculty and administration.