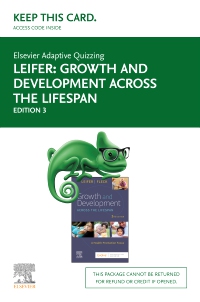 Publication Date:
12-28-2021
Elsevier Adaptive Quizzing for Growth and Development Across the Lifespan (Access Card), 3rd Edition
Elsevier Adaptive Quizzing - Access Card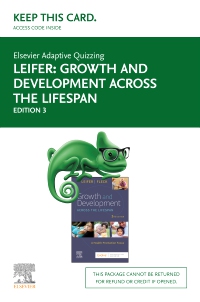 Publication Date:
12-28-2021
Elsevier Adaptive Quizzing (EAQ) integrates seamlessly into your course to help students of all skill levels focus their study time and effectively prepare for class, course exams, and summative exams. EAQ is comprised of a bank of high-quality practice questions that allows students to advance at their own pace — based on their performance — through multiple mastery levels for each chapter. A comprehensive dashboard allows students to view their progress and stay motivated. The educator dashboard and reporting capabilities enable you to monitor the activity of individual students, assess overall class performance, and identify areas of strength and weakness, ultimately helping to achieve improved learning outcomes.
UNIQUE! Elsevier's trusted, market-leading content serves as the foundation for all questions, which are written, reviewed, and leveled by experienced educators, item writers, and authors.
Confidence level indicators allow you to indicate your confidence when submitting answers, providing valuable insight into areas where you might be overconfident and require further study.
UNIQUE! Practice in Study Mode, which provides immediate feedback, or in Exam Mode where the quiz is timed and results are summarized at the end.
UNIQUE! In addition to detailed rationales for each question, select questions include interactive, multimedia resources such as illustrations, animations, videos, audio clips, summary tables, and study tips to help you master challenging material.
Engaging, easy-to-use interface ensures that you can navigate through the program with ease.
Multiple mastery levels for each chapter allow you to progress from one level to the next based on your performance.
Alternate item format questions — including multiple-response, fill-in-the-blank, prioritizing, graphic options, chart/exhibit, video, audio, and hot spot — provide valuable summative exam preparation.
A comprehensive dashboard allows you to view your personal learning progress with summaries of your strengths, weaknesses, mastery levels, and normative data.

NEW! Healthy People 2030 goals and objectives are incorporated throughout the book.
NEW! Case studies are included in life stage chapters.
NEW! Updated physical activity guidelines are included from the World Health Organization, Centers for Disease Control and Prevention, the Journal of the American Medical Association, and the U.S. Department of Health and Human Services.
NEW! Updated content includes microbiomes, obesity, nutrition, telehealth, social media, substance abuse, and gun safety.
NEW! Review questions are added to the Evolve companion website.

1. Healthy People 2030
2. Government Influences on Health Care
3. Cultural Considerations Across the Lifespan and in Health and Illness
4. The Influence of Family on Developing a Lifestyle
5. Theories of Development
6. Prenatal Influences on Healthy Development
7. The Infant
8. Early Childhood
9. Middle Childhood
10. Adolescence
11. Young Adulthood
12. Middle Adulthood
13. Late Adulthood
14. Advanced Old-Age and Geriatrics
15. Planning for the End of Life
16. Loss, Grief, and Bereavement
Appendix A: Child, Adolescent, and Adult Immunization Schedules
Appendix B: Multilingual Glossary of Symptoms
Glossary
Bibliography
Index

Gloria Leifer, MA, RN, CNE, Professor, Obstetric and Pediatric Nursing, Riverside City College, Riverside, California and Eve Fleck, MS, ACE GFI, ACE PT, NASM CPT, Lecturer, College of Health and Human Development, California State University, Northridge, Los Angeles, California.