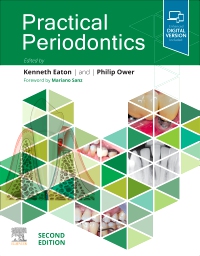 Publication Date:
10-04-2022
Practical Periodontics - Elsevier eBook on VitalSource, 2nd Edition
Elsevier eBook on VitalSource
Publication Date:
10-04-2022
Or $0.00 with a valid access code
The second edition of this popular textbook provides a concise and easy-to-follow guide that will increase the confidence of students and clinicians alike in managing all aspects of periodontal care.
Practical Periodontics provides evidence-based information on the essentials of clinical periodontology, written by internationally renowned contributors in an accessible, practical style. It covers all aspects of the discipline, including the aetiology of periodontal diseases, clinical management, patient education, paediatric care, and the interaction of periodontology with other dental disciplines such as implant dentistry and orthodontics. This book will be invaluable to all undergraduate dentistry, hygiene and therapy students. It is also highly relevant for practising dentists, dental hygienists and therapists as a source of up-to-date, evidence-based information on periodontics.
Supported by a wide range of online material, including video, case reports and revision questions

Practical approach that brings learning to life

Accessible style, chapter overviews, learning objectives and key points boxes to aid revision

Full-colour illustrations to demystify complex processes

New chapter on implants

Aligns with European Federation of Periodontology and British Society of Periodontology and Implant Dentistry guidelines for care and management of patients with periodontitis

Enhanced eBook version included with purchase. Your enhanced eBook allows you to access all of the text, figures, and references from the book on a variety of devices.

Section 1: Aetiology of Periodontal Diseases 1.1 The Macro- and Microanatomy of Periodontal Tissues 1.2 The Pathogenesis of Periodontal Diseases 1.3 Epidemiology of Periodontal Diseases 1.4 Host Response and Susceptibility 1.5 The Role of Biofilms in Health and Disease 1.6 Periodontal Risk – Modifying and Predisposing Factors Section 2: Periodontal Diagnosis and Prognosis 2.1 Classification and Diagnosis of Periodontal Diseases 2.2 Periodontal Assessment and Monitoring 2.3 Gingival Enlargement 2.4 Periodontitis and Systemic Diseases 2.5 Determining Periodontal Prognosis Section 3: Periodontal Treatment Planning 3.1 Treatment Planning – Gingivitis and Periodontitis 3.2 The Management of Mucogingival Conditions (Gingival Recession) 3.3 Treatment Planning: Periodontal Problems in Children and Adolescents 3.4 Referral to a Periodontal Specialist Section 4: The Role of Self-Care and Oral Hygiene Methods 4.1 Patient Education and Self-Performed Biofilm Control 4.2 Clinical Imaging in Patient Assessment and Motivation 4.3 Patient Adherence Section 5: Non-surgical Periodontal Management 5.1 The Diseased Root Surface in Periodontitis 5.2 Periodontal Instrumentation 5.3 Antibiotics in the Management of Periodontal Diseases 5.4 Assessment of Treatment Outcomes and Supportive Periodontal Therapy Section 6: Surgical Periodontal Therapy 6.1 Rationale for Periodontal Surgery Section 7: Interaction with Other Dental Disciplines 7.1 The Periodontal–Restorative Interface 7.2 The Periodontal–Orthodontic Interface 7.3 Dental Implants – Anatomy, Complications, Management of Peri-Implant Diseases Appendix 1 World Workshop on Classification of Periodontal and Peri-implant Diseases and Conditions 2017 - Staging and Grading of Periodontitis Appendix 2 Implementing the 2017 Classification of Periodontal Diseases to Reach a Diagnosis in Clinical Practice Appendix 3 European Federation of Periodontology S3-Level Clinical Treatment Guidelines - Stepwise Approach Appendix 4 BSP UK Clinical Practice Guidelines for the Treatment of Periodontal Diseases

Index

Kenneth A Eaton, PhD, MSc, BDS, MGDS RCS(Eng), FFGDP(UK), FFPH, FHEA, FICD, DHC, Visiting Professor, University College London Eastman and King's College London Dental Institutes; Honorary Professor, University of Kent; Visiting Professor, Leeds University; Specialist in Periodontics and Dental Public Health, London, UK and Philip Ower, MSc, BDS, FFGDP RCS, MGDS RCS, Formerly Specialist in Periodontics and Director, PerioCourses Ltd