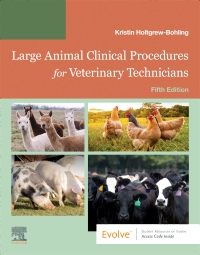 Publication Date:
10-03-2023
Evolve Resources for Large Animal Clinical Procedures for Veterinary Technicians, 5th Edition
Resources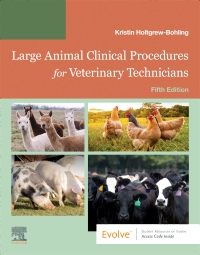 Publication Date:
10-03-2023
Any student who attempts to register for access will be reported to the school's faculty and administration.
Educator Resources on Evolve
500-question test bank with rationales for correct and incorrect answers
PowerPoint® lecture outline for each chapter
Access to all student resources
Student Resources on Evolve
Image collection of all images in the book
175 photographs of large animal instruments
Chapter quizzes with 20-30 questions per chapter
Printable PDFs of appendices including commonly used large animal data, large animal instruments and equipment, a vaccine table, and laboratory references
Part 1: The Livestock Industry 1. The Importance of Livestock 2. Livestock Safety and Handling 3. Livestock Reproduction 4. Livestock Nutrition

Part 2: Large Animal Hospital Management 5. Daily Hospital Responsibilities 6. Admissions, Medical Records, and Physical Examinations 7. Diagnostic Imaging for Large Animals

Part 3: Horses in Veterinary Practice 8. Equine Husbandry 9. Equine Clinical Procedures 10. Equine Surgical Procedures 11. Common Equine Disease

Part 4: Cattle in Veterinary Practice 12. Bovine Husbandry 13. Bovine Clinical Procedures 14. Bovine Surgical Procedures 15. Common Bovine Diseases

Part 5: Sheep and Goats in Veterinary Practice 16. Ovine and Caprine Husbandry 17. Ovine and Caprine Clinical Procedures 18. Ovine and Caprine Surgical Procedures 19. Common Ovine and Caprine Diseases

Part 6: Llamas and Alpacas in Veterinary Practice 20. Camelid Husbandry 21. Camelid Clinical Procedures 22. Camelid Surgical Procedures 23. Common Camelid Diseases

Part 7: Swine in Veterinary Practice 24. Porcine Husbandry 25. Porcine Clinical Procedures 26. Porcine Surgical Procedures 27. Common Porcine Diseases

Part 8: Poultry in Veterinary Practice

28. Poultry Husbandry

29. Poultry Clinical Procedures

30. Poultry Surgical Procedures

31. Common Poultry Diseases

Glossary

Kristin J. Holtgrew-Bohling, DVM, LVT, RLATG, Instructor, Veterinary Technology Program, Vatterott College, Omaha, NE; Iowa State University/ University of Nebraska, Lincoln, Professional Program of Veterinary Medicine Class of 2014

This product is available in the following formats:
Any student who attempts to register for access will be reported to the school's faculty and administration.