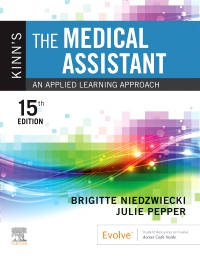 Publication Date:
11-21-2022
Kinn's The Medical Assistant - Elsevier EBook on VitalSource, 15th Edition
Elsevier eBook on VitalSource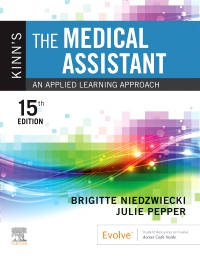 Publication Date:
11-21-2022
Or $0.00 with a valid access code
More than any other product on the market, the most successful Medical Assistants begin their careers with Kinn. Known for more than 65 years for its alignment with national curriculum standards, Kinn's The Medical Assistant: An Applied Learning Approach, 15th Edition teaches the real-world administrative and clinical skills essential for a career in the modern medical office — always with a focus on helping you apply what you've learned. This edition features a new unit on advanced clinical skills and expanded content on telemedicine, infection control related to COVID-19, IV therapy, radiology, rehabilitation, insurance, coding, privacy, data security, and much more. With its approachable writing style appropriate for all levels of learners and a full continuum of separately sold adaptive solutions, real-world simulations, EHR documentation experience, and HESI remediation and assessment, quickly master the leading skills to prepare for certification and a successful career in the dynamic and growing Medical Assisting profession!
Comprehensive coverage of all administrative and clinical procedures complies with accreditation requirements.
Step-by-step, illustrated procedures include rationales and a focus on professionalism.
Electronic health record (EHR) coverage provides access to hands-on activities using SimChart® for the Medical Office (sold separately).
Applied learning approach incorporates threaded case scenarios and critical thinking applications.
Patient education and legal and ethical features at the end of each chapter reinforce legal and communications implications within Medical Assisting practice.
Key vocabulary terms and definitions are presented at the beginning of each chapter, highlighted in text discussions, and summarized in a glossary for quick reference.

NEW! Content aligns to 2022 Medical Assisting educational competencies.
NEW! Advanced Clinical Skills unit features three new chapters on IV therapy, radiology basics, and radiology positioning to support expanded medical assisting functions.
NEW! Coverage of telemedicine, enhanced infection control related to COVID-19, and catheterization.
NEW! Procedures address IV therapy, limited-scope radiography, applying a sling, and coaching for stool collection.
UPDATED! Coverage of administrative functions includes insurance, coding, privacy, data security, and more.
UPDATED! Online practice exam for the Certified Medical Assistant matches 2021 test updates.
EXPANDED! Information on physical medicine and rehabilitation.
EXPANDED! Content on specimen collection, including wound swab, nasal, and nasopharyngeal specimen collections.

PART 1 – Introduction to Medical Assisting
1. The Professional Medical Assistant and the Healthcare Team
2. Therapeutic Communication
3. Legal Principles
4. Healthcare Laws
5. Healthcare Ethics
PART 2 – Fundamentals of Ambulatory Care Administration
6. Technology
7. Written Communication
8. Telephone Techniques
9. Scheduling Appointments and Patient Processing
10. Health Records
11. Daily Operations and Safety
PART 3 – Coding and Medical Billing
12. Health Insurance Essentials
13. Diagnostic Coding Essentials
14. Procedural Coding Essentials
15. Medical Billing and Reimbursement Essentials
PART 4 – Advanced Ambulatory Care Administration
16. Patient Accounts and Practice Management
17. Advanced Roles in Administration
PART 5 – Fundamentals of Clinical Medical Assisting
18. Introduction to Medical Terminology and Anatomy
19. Infection Control
20. Vital Signs
21. Physical Examination
22. Patient Coaching
23. Nutrition and Health Promotion
24. Surgical Supplies and Instruments
25. Assisting with Surgical Procedures
26. Principles of Electrocardiography
27. Medical Emergencies
PART 6 – Assisting with Medications
28. Principles of Pharmacology
29. Pharmacology Math
30. Administering Medications
PART 7 – Assisting with Medical Specialties
31. Ophthalmology and Otolaryngology
32. Dermatology
33. Allergy and Infectious Disease
34. Gastroenterology
35. Orthopedics and Rheumatology
36. Physical Medicine and Rehabilitation
37. Neurology
38. Behavioral Health
39. Endocrinology
40. Cardiology
41. Pulmonology
42. Urology and Male Reproduction
43. Obstetrics and Gynecology
44. Pediatrics
45. Geriatrics
PART 8 – Assisting with Clinical Laboratory Procedures
46. Introduction to the Clinical Laboratory
47. Urinalysis
48. Blood Collection
49. Analysis of Blood
50. Microbiology and Immunology
PART 9 – Advanced Clinical Skills
51. Intravenous Therapy
52. Radiology Basics
53. Positioning for Radiology
PART 10 – Job Seeking
54. Skills and Strategies
Index

Brigitte Niedzwiecki, RN, MSN, RMA, Medical Assistant Program Director & Instructor, Chippewa Valley Technical College, Eau Claire, Wisconsin and Julie Pepper, BS, CMA (AAMA), Medical Assisting Program Instructor, Health Navigator Program Director, Chippewa Valley Technical College, Eau Claire, Wisconsin