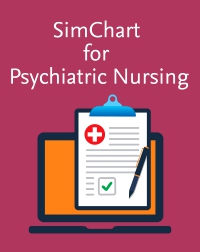 Publication Date:
04-27-2022
SimChart for Psychiatric Nursing, 1st Edition
Simulations - Course-Based SimChart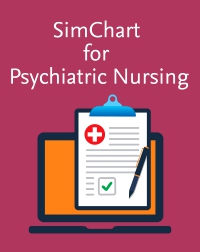 Publication Date:
04-27-2022
Any student who attempts to register for access will be reported to the school's faculty and administration.
SimChart® for Psychiatric Nursing is a web-based, simulated electronic health record (EHR) system designed specifically as a learning tool for Psychiatric Nursing students. It combines practical, real-world experience in electronic documentation with powerful, fully integrated educator support to help you incorporate EHR practice into your Sherpath for Psychiatric Nursing course — from the classroom, to the clinical learning environment.
Realistic assignments give you valuable, hands-on practice documenting, monitoring, and analyzing patient care in an interactive and controlled learning environment.
Blank Charting active learning tool enables you to practice your HIPAA-compliant patient documentation skills and gain experience in tracking vital signs, completing admission histories, assessments, and more.
Pre-Clinical Manager prepares you for clinical rotations by allowing you to research and document diagnoses, medications, and diagnostic tests prior to seeing clinical patients.
Pre-built unfolding case studies challenge you to document care, make clinical judgments, and respond to charting in the EHR according to an unfolding clinical story.
Ability to create and chart patients provides you with endless options to practice key skills, such as taking vital signs.
Intuitive functionality makes it easy to learn and use all of SimChart's capabilities in a variety of settings, including the classroom and clinicals.
Assignments written and reviewed by healthcare educators and clinicians map directly to the Psychiatric Nursing curriculum.

NEW! Sherpath integration allows for easy incorporation into any Sherpath for Psychiatric Nursing course, with charting case studies and quizzes that align with your Sherpath learning materials.
NEW! 10 case studies provide a basic introduction to EHRs to help you practice clinical judgment, develop key skills, and increase your confidence in using an EHR in the clinical setting.

Elsevier

This product is available in the following formats: