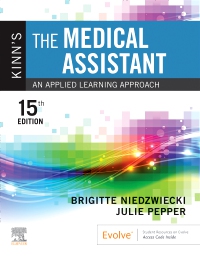 Publication Date:
01-13-2023
Evolve Resources for Kinn's The Medical Assistant, 15th Edition
Resources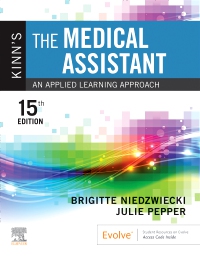 Publication Date:
01-13-2023
Any student who attempts to register for access will be reported to the school's faculty and administration.
Educator Resources on Evolve
TEACH Instructor Resources, including:

Lesson plans
PowerPoint® lecture slides
Student handouts
Answer keys

Test bank (3,500 questions with answers, rationales, and mapping to objectives, page references, and accreditation competencies)
Image collection
Assessment measurement tools
Interactive competency evaluation checklists
Mapping guides (CAAHEP, ABHES, and certification exams)
Student Resources on Evolve
100+ procedure videos
Practice quizzes
Mock certification exams
SimChart® for the Medical Office exercises
Interactive work product forms and evaluations
Portfolio and resume builder
Body Spectrum electronic anatomy coloring book
Medical terminology audio glossary
PART 1 – Introduction to Medical Assisting
1. The Professional Medical Assistant and the Healthcare Team
2. Therapeutic Communication
3. Legal Principles
4. Healthcare Laws
5. Healthcare Ethics
PART 2 – Fundamentals of Ambulatory Care Administration
6. Technology
7. Written Communication
8. Telephone Techniques
9. Scheduling Appointments and Patient Processing
10. Health Records
11. Daily Operations and Safety
PART 3 – Coding and Medical Billing
12. Health Insurance Essentials
13. Diagnostic Coding Essentials
14. Procedural Coding Essentials
15. Medical Billing and Reimbursement Essentials
PART 4 – Advanced Ambulatory Care Administration
16. Patient Accounts and Practice Management
17. Advanced Roles in Administration
PART 5 – Fundamentals of Clinical Medical Assisting
18. Introduction to Anatomy and Medical Terminology
19. Infection Control
20. Vital Signs
21. Physical Examination
22. Patient Coaching
23. Nutrition and Health Promotion
24. Surgical Supplies and Instruments
25. Assisting with Surgical Procedures
26. Principles of Electrocardiography
27. Medical Emergencies
PART 6 – Assisting with Medications
28. Principles of Pharmacology
29. Pharmacology Math
30. Administering Medications
PART 7 – Assisting with Medical Specialties
31. Ophthalmology and Otolaryngology
32. Dermatology
33. Allergy and Infectious Disease
34. Gastroenterology
35. Orthopedics and Rheumatology
36. Physical Medicine and Rehabilitation
37. Neurology
38. Behavioral Health
39. Endocrinology
40. Cardiology
41. Pulmonology
42. Urology and Male Reproduction
43. Obstetrics and Gynecology
44. Pediatrics
45. Geriatrics
PART 8 – Assisting with Clinical Laboratory Procedures
46. Introduction to the Clinical Laboratory
47. Urinalysis
48. Blood Collection
49. Analysis of Blood
50. Microbiology and Immunology
PART 9 – Advanced Clinical Skills
51. NEW! Intravenous Therapy
52. NEW! Radiology Basics
53. NEW! Positioning for Radiology
PART 10 – Job Seeking
54. Employment Skills and Strategies

Brigitte Niedzwiecki, RN, MSN, RMA, Medical Assistant Program Director & Instructor, Chippewa Valley Technical College, Eau Claire, Wisconsin and Julie Pepper, BS, CMA (AAMA), Medical Assisting Program Instructor, Health Navigator Program Director, Chippewa Valley Technical College, Eau Claire, Wisconsin

This product is available in the following formats:
Any student who attempts to register for access will be reported to the school's faculty and administration.