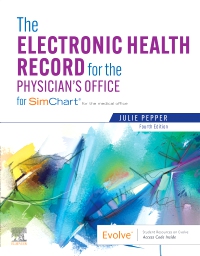 The Electronic Health Record for the Physician's Office Elsevier eBook on VitalSource, 4th Edition
Elsevier eBook on VitalSource
Not Yet Available
Most review copies are eBooks – how fast!
Coming Soon!
Expected availability date: 08-23-2023
Give your students realistic, hands-on practice with performing EHR tasks! Combining a print textbook with online SimChart for the Medical Office software, The Electronic Health Record for the Physician's Office, 4th Edition uses real-world examples and screenshots to walk readers through each EHR task. Clear, step-by-step guidelines simplify the exercises in each simulation, so students can master all the EHR skills required of a medical office professional. They'll learn how to use EHR in patient care and reimbursement by performing tasks in administrative use, clinical care, and coding and billing. Organized in a work-text format, this manual also helps students prepare for success on the Certified Electronic Health Records Specialist (CEHRS) examination.
UNIQUE! Integration with SimChart for the Medical Office (SCMO), Elsevier's educational EHR (sold separately), makes it easier to learn and apply EHR fundamentals.
EHR Exercises with step-by-step instructions reinforce key concepts and allow practice with actual software, increasing in difficulty based on the knowledge gained.
Critical Thinking Exercises provide thought-provoking questions to enhance learning and problem-solving skills.
Chapter Review Activities allow you to assess your knowledge of the material, with activities such as a review of key terms, matching and true/false questions, and additional opportunities for software practice.
Review of Paper-Based Office Procedures describes how tasks are completed when the healthcare facility is using paper-based procedures instead of electronic.
Trends and Applications provide real-life examples of how EHR systems are being used to improve health care.
Application exercises in the appendix include front office, clinical care, and coding and billing, allowing you to practice skills before tackling graded SCMO exercises.
Student resources on the Evolve website include a custom test generator to allow CEHRS exam practice or simulation.

NEW! Content is aligned to the latest blueprint for the Certified Electronic Health Records Specialist (CEHRS) exam.
NEW! Updated coverage includes data validation and reconciliation, patient portals, EHR training, IT troubleshooting techniques, common documentation errors, reimbursement systems and processes, authorizations, federal guidelines and escalation procedures, and reporting.
NEW! Screenshots demonstrate EHR applications within SimChart for the Medical Office.

1. Introduction to Electronic Health Records
2. Overview of SimChart for the Medical Office
3. Privacy, Confidentiality, and Security
4. Administrative Use of the Electronic Health Record
5. Clinical Use of the Electronic Health Record
6. Using the Electronic Health Record for Reimbursement
7. The Personal Health Record and Patient Portals
Appendices
A: Review of Paper-Based Office Documents
B: CMS Documentation Guidelines
C: Front Office, Clinical Care, and Coding and Billing Application Exercises
D: SimChart Supplement
Glossary
Index

Julie Pepper, BS, CMA (AAMA), Medical Assisting Program Instructor, Health Navigator Program Director, Chippewa Valley Technical College, Eau Claire, Wisconsin