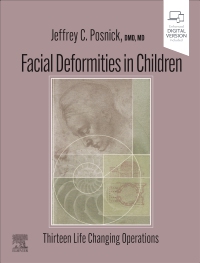 Publication Date:
02-08-2023
Facial Deformities in Children - Elsevier E-Book on VitalSource, 1st Edition
Elsevier eBook on VitalSource
Publication Date:
02-08-2023
Gain an appreciation for the challenges that lie ahead for those with facial deformity. Using his own patients' clinical photos and personal stories, Dr. Jeffrey Posnick takes us through surgical thinking and describes current techniques that are used to reconstruct children with conditions such as craniosynostosis, skull defects, congenital tumors, cleft lip and palate, and developmental and posttraumatic jaw, nasal, and ear deformities. The necessity of bold surgical innovation and a coordinated comprehensive approach to a child's facial reconstruction which often requires input from a spectrum of medical, surgical, and dental specialties and therapists becomes evident when visualizing the conditions described and reading through the chapters of this book. Written by Jeffrey C. Posnick, an internationally known expert in cranio-maxillofacial surgery, this reference includes a fully searchable eBook version with each print purchase.
Discussions of surgical techniques are included in each chapter, highlighting treatment plans as well as aftercare.
Patient-focused approach in each chapter presents a specific case along with associated clinical information, photos, and feedback from patients who have been treated through the method discussed.
300 full-color clinical photos and illustrations are included.
Clinical guidelines are presented with concise and up-to-date coverage.
Focus on team approach facilitates the inclusion of dentists, medical doctors, speech pathologists, and nurses in the treatment of facial deformities in children.
Internationally known author is Jeffrey C. Posnick, who is also a clinician, educator, and lecturer, and has written more than 400 articles for medical journals and book chapters as well as the two-volume textbook Orthognathic Surgery.
eBook version is included with print purchase, allowing you to access all of the text, figures, and references, and offers you the ability to search, customize your content, make notes and highlights, and have content read aloud.

1. Reconstruction of Isolated Craniosynostosis
2. Reconstruction of Craniosynostosis Syndromes
3. Reconstruction of Complex Facial Clefts
4. Reconstruction of Skull Defects
5. Removal of Congenital Tumors of the Face
6. Otoplasty to Setback Protruding Ears
7. Reconstruction of Developmental Jaw Deformities
8. Cleft Lip and Palate Reconstruction
9. Cleft Jaw & Cleft Nasal Reconstruction
10. Reconstruction of Hemifacial Microsomia
11. Reconstruction of Posttraumatic Jaw Deformities
12. Reconstruction of Saddle Nose Deformities
13. Cosmetic Rhinoplasty
Appendix A: Future Directions in the Field of Facial Reconstruction
Appendix B: Final Thoughts
Index

Jeffrey C. Posnick, D.M.D., M.D., F.R.C.S. (C), F.A.C.S., Professor Emeritus, Plastic and Reconstructive Surgery & Pediatrics Georgetown University School of Medicine, Washington, DC Professor of Orthodontics University of Maryland, Baltimore College of Dental Surgery Professor of Oral and Maxillofacial Surgery Howard University College of Dentistry, Washington, DC Adjunct Professor of Plastic and Reconstructive Surgery Johns Hopkins School of Medicine, Baltimore, Maryland Posnick MD Consulting, LLC Potomac, Maryland