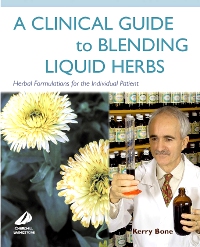 Imprint:
Churchill Livingstone
A Clinical Guide to Blending Liquid Herbs
,
Hardcover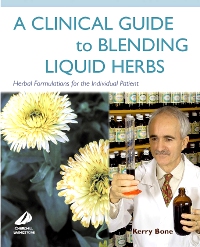 Imprint:
Churchill Livingstone
This item has low stock levels and may be back-ordered. We'll let you know if it is back-ordered, and you will not be charged until the item ships.
Focuses solely on liquid herbal preparations — making it a must-have resource and the only book of its kind.
Covers approximately 125 herb profiles in detail.
Offers the widest range of research-backed information currently available on herbs.
Begins with basic principles to give practitioners confidence in the accuracy and precision of their prescriptions.
Written by one of the leading names in herbal medicine.
Clinically relevant with quick access to dosage information, contraindications, and more.

Part I: Overview
Chapter 1: Fundamental Concepts
Chapter 2: Formulating for the Individual Patient
Chapter 3: How to use the Monographs
Part II: Monographs

Albizia-
Aloe Vera-
Andrographis-
Arnica-
Ashwaganda-
Astragalus-
Bacopa-
Baical Skullcap-
Baptisia-
Barberry-
Bilberry-
Black Cohosh-
Black Haw-
Bladderwrack-
Blue Cohosh-
Blue Flag-
Buchu-
Bugleweed-
Bupleurum-
Burdock-
Calendula-
California Poppy-
Cascara-
Cat's Claw-
Celery Seed-
Chamomile-
Chaste Tree-
Chickweed-
Cinnamon-
Clivers-
Codonopsis-
Coleus-
Corn Silk-
Couch Grass-
Cramp Bark-
Cranesbill Root-
Crataeva-
Damiana-
Dandelion (leaf and root)-
Devil's Claw-
Dong Quai-
Echinacea-
Elder Flower-
Elecampane-
Eleutherococcus-
Euphorbia-
Eyebright-
False Unicorn-
Fennel-
Fenugreek-
Feverfew-
Fringe Tree-
Gentian-
Ginger-
Ginkgo-
Globe Artichoke-
Goat's Rue-
Golden Rod-
Golden Seal-
Gotu Kola
Greater Celandine-
Grindelia-
Gymnema-
Hawthorn-
Hawthorn-
Hemidesmus-
Hops-
Horsechestnut-
Horsetail-
Hydrangea-
Indian Barberry-
Jamaica Dogwood-
Kava-
Korean Ginseng-
Lavender-
Lemon Balm-
Licorice-
Lime Flowers-
Marshmallow-
Meadowsweet-
Milk Thistle-
Mistletoe-
Motherwort-
Mullein-
Myrrh-
Neem Leaf-
Nettle Leaf-
Nettle Root-
Oats-
Olive Leaf-
Oregon Grape-
Pasque Flower-
Passion flower-
Pau d'Arco-
Peppermint-
Pleurisy Root-
Poke Root-
Prickly Ash-
Raspberry Leaf-
Red Clover-
Rehmannia-
Rosemary-
Sage-
St John's Wort-
Sarsaparilla-
Saw Palmetto-
Schisandra-
Shatavari-
Shepherd's Purse-
Skullcap-
Spiny Jujube-
Thuja-
Thyme-
Tienchi Ginseng-
Turmeric-
Tylophora-
Uva Ursi-
Valerian-
Vervain-
White Horehound-
White Peony-
Wild Cherry-
Wild Yam-
Willow Herb-
Wormwood-
Yarrow-
Yellow Dock-
Appendices
A. Dosage Summary Chart
B. Glossary of Herbal Actions
C. Glossary Clinical Trial Terms
D. Herb Listing by Actions
E. Action Listing by Herbs
F. Herbs Possibly Contraindicated in Pregnancy

Kerry Bone, MCPP, FNHAA, FNIMH, DipPhyto, Bsc(Hons), Head of Research and Development, MediHerb (Pty) Ltd, Warwick, Queensland; Principal, Australian College of Phytotherapy, Australia
This item has low stock levels and may be back-ordered. We'll let you know if it is back-ordered, and you will not be charged until the item ships.