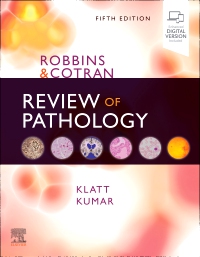 Publication Date:
01-23-2023
Robbins and Cotran Review of Pathology Elsevier eBook on VitalSource, 5th Edition
Elsevier eBook on VitalSource
Publication Date:
01-23-2023
Unsurpassed in authoritative, focused content, Robbins & Cotran Review of Pathology, 5th Edition, covers all major topics in general pathology and organ system pathology, effectively preparing students for coursework and examinations. Part of the highly regarded Robbins & Cotran family of texts, this easy-to-use review contains 2,000 multiple-choice questions and answers to help readers master the most important principles and facts in pathology. Questions and answers have been written, reviewed, updated, and explained by experts in the field, ensuring that your students' knowledge is up to date, thorough, and clinically relevant.
Unit I General Pathology

1 The Cell as a Unit of Health and Disease

2 Cellular Pathology

3 Inflammation and Repair

4 Hemodynamic Disorders

5 Genetic Disorders

6 Immune System Diseases

7 Neoplastic Disorders

8 Infectious Diseases

9 Environmental and Nutritional Diseases

10 Diseases of Infancy and Childhood

Unit II Diseases of Organ Systems

11 Blood Vessels

12 The Heart

13 Hematopathology of White Blood Cells

14 Hematopathology of Red Blood Cells and Bleeding Disorders

15 The Lung

16 Head and Neck

17 Gastrointestinal Tract

18 Liver and Biliary Tract

19 Pancreas

20 Kidney

21 The Lower Urinary Tract and Male Genital System

22 Female Genital Tract

23 The Breast

24 The Endocrine System

25 The Skin

26 Bones, Joints, and Soft Tissue Tumors

27 Peripheral Nerve and Skeletal Muscle

28 Central Nervous System

29 The Eye

30 Final Review and Assessment

Edward C. Klatt, MD, Professor of Pathology, Department of Biomedical Sciences, Director, Biomedical Education Program, Mercer University School of Medicine, Savannah, Georgia and Vinay Kumar, MBBS, MD, FRCPath, Alice Hogge and Arthur A. Baer Distinguished Service Professor of Pathology, Biologic Sciences Division and the Pritzker Medical School, The University of Chicago, Chicago, Illinois, USA