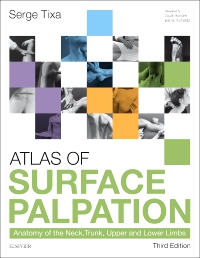 Publication Date:
12-02-2015
Atlas of Surface Palpation, 3rd Edition
Paperback
Publication Date:
12-02-2015
All new artwork programme enhances accessibility and learning

Useful template approach aids ready understanding and allows the reader to go at his or her own speed

Presents almost 600 photographs and line artworks to render the learning experience as easy as possible

Contains over 160 pull out boxes to act as useful aide memoires

Clinical Hints and Tips boxes indicate points of relevance for the clinic

Methods of approach illustrated with many new photographs
Anatomical drawings have been completely redesigned to improve clarity
Clinical Notes boxes
Glossary
Inclusion of Dermatomes

1. Neck

2. Trunk and Sacrum

3. Shoulder

4. Arm

5. Elbow

6. Forearm

7. Wrist and Hand

8: Hip

9: Thigh

10: Knee

11. Leg

12: Foot and Ankle

Serge Tixa, Instructor of Anatomy & Palpatory Anatomy, Swiss School of Osteopathy, Lausanne, Switzerland Formador de profesionales de la salud; professor de anatomía en la École Suisse d'Ostéopathie de Lausana Cadre de santé, professeur d'anatomie et d'anatomie palpatoire dans plusieurs écoles d´ostéopathie en France et en Europe, formateur auprès des professionnels de santé.