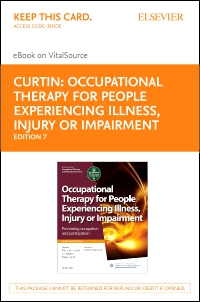 Publication Date:
03-08-2017
Occupational Therapy for People Experiencing Illness, Injury or Impairment - Elsevier eBook on Vitalsource (Retail Access Card), 7th Edition
Elsevier eBook on VitalSource - Access Card
Publication Date:
03-08-2017
This item has low stock levels and may be back-ordered. We'll let you know if it is back-ordered, and you will not be charged until the item ships.
Links theory with day-to-day practice, stimulating reflection
Includes occupational, biomedical and social sciences that underpin occupational therapy practice
Focus on working with groups, communities and populations in addition to working with individuals reflecting the evolving and expanding scope of practice
Use of person-centred or inclusive and strengths-based language
Three bonus interactive practice stories online at Evolve Resources and signposted at the end of Sections 3-7 in the textbook

New title echoes the contemporary strength-based and occupation-focused nature of occupational therapy practice which involves working with people and not medical conditions and diagnoses
Content and structure reviewed and shaped by an international panel of students/new graduates
22 additional chapters
100 expert international contributors
Evolve Resources – evolve.elsevier.com/Curtin/OT – contains:

3 bonus interactive practice stories with reflective videos
360 MCQs
200 reflective questions
250 downloadable images

Critical discussion of the ICF in the context of promoting occupation and participation
Pedagogical features: summaries, key points, and multiple choice and short answer reflective questions

Preface

Foreword

Contributors List

Section 1: Introduction

Chapter 1 - Evolution of occupational therapy within the health care context (Michael Curtin, Jo Adams and Mary Egan)

Section 2: Underpinning sciences

Chapter 2 - Occupational science (Debbie Laliberte Rudman, Rebecca Aldrich)

Chapter 3 - Biomedical sciences (Lesley Collier, Richard Collier)

Chapter 4 - Social sciences (Judith Pettigrew, Katie Robinson)

Section 3: Professional reasoning

Chapter 5 - Client-centredness (Jacquie Ripat)

Chapter 6 - Communication in occupational Therapy practice (Sue Baptiste)

Chapter 7 - Professional reasoning in occupational therapy practice (Carolyn Anne Unsworth)

Chapter 8 - Canadian practice process framework (Noemi Cantin, Martine Brousseau)

Chapter 9 - Occupational therapy practice models (Merrill Turpin)

Chapter 10 - Occupational performance model (Australia): a description of constructs, structure and propositions (Chris Chapparo, Judy L. Ranka, Melissa Therese Nott)

Chapter 11 - The Canadian model of occupational performance and engagement (cmop-e) (Jane A. Davis)

Section 4: Assessment

Chapter 12 - Process of assessment (Clare Hocking, Karen Whalley Hammell)

Chapter 13 - Canadian occupational performance measure (Heather Colquhoun, Anne W. Hunt and Janet F. Murchison)

Chapter 14 - Task, activity and occupational analysis (Cynthia Perlman, Melanie Bergthorson)

Chapter 15 - Dynamic performance analysis (Rose Martini, Dorothy Kessler)

Chapter 16 - Analysis of occupational performance: motor, process and social interaction skills (Gill Chard, Sue Mesa)

Chapter 17 - Perceive, recall, plan and perform (prpp) system of task analysis and intervention (Chris Chapparo, Judy L. Ranka and Melissa Therese Nott)

Chapter 18 - Assessing the environment (Gunilla Carlsson, Agneta Malmgren Ange)

Chapter 19 - Reasoning underpinning assessments for people experiencing neurological conditions (Mary Egan, Lise Zakutney)

Chapter 20 - Reasoning underpinning assessments for people experiencing musculoskeletal conditions (Tanja A. Stamm, Stefanie Haider, Simone Luschin and Agnes Sturma)

Chapter 21 - Reasoning underpinning assessments for people experiencing medical conditions and conditions requiring surgery (Deidre Morgan, Celia Marston and Jenni Bourke)

Section 5: Goals

Chapter 22 - Writing occupation-focused goals (Julia Bowman, Lise Mogensen and Natasha A. Lannin)

Section 6: Enabling skills and strategies

Chapter 23 - Overview of enabling skills and strategies (Michael Curtin)

Chapter 24 - Advocacy and lobbying (Valmae Rose, Kevin Cocks and Lesley Chenoweth)

Chapter 25 – Education (Tammy Hoffmann, Sally Eames)

Chapter 26 - Public health (Rachael Dixey)

Chapter 27 - Community development (Marie Grandisson, Anick Sauvageau)

Chapter 28 - Community-based rehabilitation (Kirsty Thompson, Christina L. Parasyn, Briana Wilson and Beth Sprunt)

Chapter 29 – Coaching (Wendy Pentland, Amy Heinz, Jeanette Isaacs-Young and Jen Gash)

Chapter 30 - Psychosocial support (Jacqueline Mckenna)

Chapter 31 - Working with groups (Claire Craig)

Chapter 32 - Enabling sexuality (Narelle Higson)

Chapter 33 - Personal care (Helen Van Huet, Tracey Elizabeth Parnell and Virginia Mitsch)

Chapter 34 – Leisure (Ruth Squire, Lucia Ramsey and Carolyn Dunford)

Chapter 35 – Work (Yeliz Prior, Alison Hammond)

Chapter 36 - Biomechanical strategies (Hanif Farhan Mohd Rasdi)

Chapter 37 - Hand therapy (Kathy Whalley, Sarah Bradley and Jo Adams)

Chapter 38 - Orthotics

(Natasha A. Lannin, Iona Novak and Michelle Jackman)

Chapter 39 - Working with people living with vision impairment (Alexandra Lonsdale, Carlia Rix and Kirsty Stewart)

Chapter 40 - Optimising motor performance and sensation after brain impairment

(Annie Mccluskey, Natasha A. Lannin, Karl Schurr and Simone Dorsch)

Chapter 41 - Cognitive and perceptual strategies (Carolyn Anne Unsworth)

Chapter 42 - Cognitive orientation to daily occupational performance

(Helene J. Polatajko, Sara E. Mcewen, Deirdre R. Dawson and Elizabeth R. Skidmore)

Chapter 43 - Assistive technology (Natasha A. Layton)

Chapter 44 - Universal design (Sharon Joines, Andrew Payne)

Chapter 45 - Home modification (Catherine E. Bridge, Phillippa Carnemolla)

Chapter 46 – Mobility (Kristy M. Robson)

Chapter 47 - Wheeled mobility and seating systems (Rachael Leigh Mcdonald)

Chapter 48 - Driving and community mobility (Marilyn Di Stefano)

Chapter 49 - Moving and handling (Tess Whitehead)

Section 7: Reflecting on practice

Chapter 50 - Reflecting on practice (Genevieve P. Epin)

Http://EVOLVE.ELSEVIER.COM/curtin/ot

Reflecting on practice – excerpts from bonus practice stories

Mrs Tremblay: A practice story of a person experiencing rehabilitation following a

stroke - reflecting on practice (Dorothy Kessler, Katrine Sauve-Shenk, Valerie Metcalfe)

Karin: A practice story of a person experiencing rheumatoid arthritis - reflecting on practice (Mathilda Bjork, Ingrid Thyberg)

Angela: A practice story of a person experiencing palliative care – reflecting on practice (Deidre Morgan, Celia Marston)

Michael Curtin, PhD, Course Coordinator, Occupational Therapy, Charles Sturt University, Australia, Matthew Molineux, BOccThy, MSc, PhD, AccOT, Director, Allied Health, Clinical Education and Training Queensland (ClinEdQ), Queensland Health, Australia. Previously Reader and Group Head, Occupational Science and Occupational Therapy, Leeds Metropolitan University, Leeds, UK. and Jo-Anne Supyk, MSc, DipCOT, SROT, Senior Lecturer, School of Health Sciences, College of Health & Social Care, University of Salford, Manchester, UK.