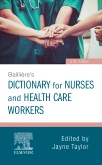 Bailliere's Dictionary
,27th Edition
Paperback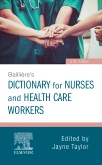 Not Yet Available
Coming Soon!
Expected availability date: 05-27-2019
User friendly text presented in a handy pocket size format
Suitable for a variety of settings raging from the high-tech high-dependency environment to primary care and community settings
Clear artwork helps further clarify terms and difficult concepts
Includes common abbreviations, prefixes, suffixes and roots, together with units of measurement and normal values
Helpful appendices cover nutrition, resuscitation, first aid, medicines control, immunization and vaccinations, and prevention and control of infection
Ideal for all newcomers to the clinical and healthcare environment!

Now published in full-colour throughout!
Expanded number of entries to aid comprehensiveness
Includes the latest information on revalidation, the legal and professional framework of nursing, professional standards of practice and behaviour, and clinical supervision

Dictionary of terms

Appendices

Nutrition
Resuscitation
First Aid
Medicines and their Control
The Legal and Professional Framework of Nursing
Professional Standards of Practice and Behaviour for Nurses, Midwives and Nursing Associates
Common Abbreviations
Common Prefixes, Suffixes and Roots
Units of Measurement and Tables of Normal Values
Immunization and Vaccinations
Prevention and Control of Infection
Revalidation
Clinical Supervision

Jayne Taylor, PhD MBA BSc(Hons) DipN(Lond) RN HV RNT, Head of Organisational Development, West Hertfordshire Hospitals NHS Trust, Watford, UK
Not Yet Available
Coming Soon!
Expected availability date: 05-27-2019