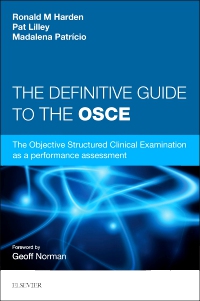 Publication Date:
06-29-2018
Imprint:
Churchill Livingstone
The Definitive Guide to the OSCE - Elsevier eBook on VitalSource Technology, 1st Edition
Elsevier eBook on VitalSource
Publication Date:
06-29-2018
Imprint:
Churchill Livingstone
This book provides a full understanding of the basic concepts underpinning the OSCE and shows how to implement an OSCE effectively and efficiently in a variety of contexts.

It includes case studies demonstrating the use of the OSCE in practice in a range of different fields.

Practical guidelines and tips are provided based on the authors' extensive experience.

An introduction to the Objective Structured Clinical Examination

What is an OSCE?

The inside story of the development of the OSCE

The OSCE as the gold standard for performance assessment

How the OSCE can contribute to the education programme

What is assessed in an OSCE?

Implementation of an OSCE

Choosing a format for an OSCE

The setting for an OSCE

The patient

The examiner

Implementing an OSCE

Evaluating the examinee's performance

Providing feedback to the learner

The examinee's perspective

Evaluating an OSCE

Costs and implementing an OSCE with limited resources

Some final thoughts

Limitations of the OSCE

Conclusions and looking to the future

Examples of the use of the OSCE in different settings and contexts: case studies

Ronald M Harden, OBE MD FRCP(Glas) FRCSEd FRCPC, Professor (Emeritus) Medical Education, University of Dundee, UK, Editor Medical Teacher, Pat Lilley, BA (Hons), Operations Director, AMEE - An International Association for Medical Education; Managing Editor, Medical Teacher and Madalena Patricio, PhD, Professor of Education,Faculty of Medicine, University of Lisbon, Portugal.