Crash Course Medical Ethics and Sociology Updated Edition: Elsevier eBook on VitalSource, 2nd Edition
Elsevier eBook on VitalSource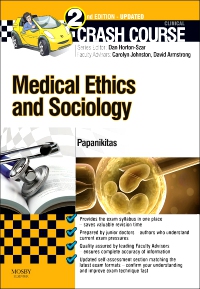 Or $0.00 with a valid access code
The (printed) 'Updated Edition' now comes with added value access to the complete, downloadable eBook version via Student Consult. Search, read and revise whilst on the move and use the interactive self-assessment to test your understanding. Crash Course - a more flexible, practical learning package than ever before.
Crash Course – your effective everyday study companion PLUS the perfect antidote for exam stress! Save time and be assured you have all the core information you need in one place to excel on your course and achieve exam success.
A winning formula now for over 15 years, each volume has been fine-tuned and fully updated, with an improved layout tailored to make your life easier. Especially written by junior doctors – those who understand what is essential for exam success – with all information thoroughly checked and quality assured by expert Faculty Advisers, the result is a series of books which exactly meets your needs and you know you can trust.
The importance of ethics and sociology as applied cannot be underestimated, within both the medical curriculum and everyday modern clinical practice. Medical students and junior doctors cannot hope to experience every dilemma first hand, but are expected to deal with new and problematic clinical situations in a reasoned, professional and systematic way. This volume, which accounts for the revised core curriculum in Medical Ethics and Law, will prove an indispensable companion.
More than 80 line artworks, tables and boxes present clinical, diagnostic and practical information in an easy-to-follow manner

Friendly and accessible approach to the subject makes learning especially easy

Written by junior doctors for students - authors who understand exam pressures

Contains 'Hints and Tips' boxes, and other useful aide-mémoires

Succinct coverage of the subject enables 'sharp focus' and efficient use of time during exam preparation

Contains a fully updated self-assessment section - ideal for honing exam skills and self-testing

Self-assessment section fully updated to reflect current exam requirements

Contains 'common exam pitfalls' as advised by faculty

Crash Courses also available electronically

1 Foundations of medical ethics and law.

2 Professionalism and medical ethics.

3 The doctor, the patient and society.

4 Ethics and law at the beginning and end of life.

5 Healthcare commissioning and resource allocation.

6 Introduction to sociology and disease.

7 Experience of health and illness.

8 Organization of health care provision in the UK.

9 Inequalities in health and health care provision.

10 Epidemiology and public health.

11 Clinical governance.

Self-assessment: Best of Five, Extended Matching Questions

Andrew Dr Papanikitas, BSc (Hons) MA MBBS DCH MRCGP DPMSA PhD, Portfolio GP, Oxford, London and Bucks; Tutor/Facilitator in ethics, interprofessional education, and clinical communication, KCL & Director, WSAL Course in Philosophy and Ethics, London, UK