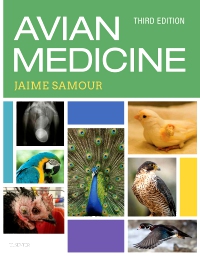 Publication Date:
12-18-2015
Avian Medicine - Elsevier eBook on VitalSource, 3rd Edition
Elsevier eBook on VitalSource
Publication Date:
12-18-2015
Set your students up for success in the field of avian care with the third edition of Jaime Samour's widely-trusted Avian Medicine. Combining the in-depth information found in a textbook with the practicality of a hands-on manual and the highly visual format of an atlas, this comprehensive text equips your students with all the knowledge and insights needed to successfully care for a wide variety of avian species — including psittacines, raptors, bustards, parrots, finches, and more. Coverage includes issues ranging from the basic aspects of patient management to the most sophisticated diagnostic techniques. Plus, with more illustrations, a wealth of practical advice, and the latest information on cutting-edge treatments and procedures incorporated into this new edition, your students will have all of the tools they need to effectively and confidently care for birds in professional practice.
Comprehensive coverage of all aspects of clinical management written by leading experts in the field provides readers with a depth and breadth of knowledge on avian medicine and care.
Coverage of a wide variety of species — including raptors, bustards, and many others — enables practitioners to treat a greater assortment of patients with more confidence and skill.
Bulleted text and tables help present information in an accessible way.
More than 900 color images give readers a better picture of disease and how it will be encountered in practice.
Appendices bring together wide-ranging data on hematology and blood chemistry reference values, commonly used pharmaceutics and other information relevant to avian practitioners.

NEW! New chapter sections, revised references, and updated suggested readings ensure that readers have the most up-to-date information.
NEW! New chapter contributors ensure the information in the text reflects the most current techniques and advances.
NEW! Expanded content on parrots, finches and fruit-eating birds has been added to the text to make content more relevant to the needs of today's practitioners.
NEW! Thoroughly updated content includes the latest surgical techniques and procedures to keep practitioners on top of the most cutting-edge information in the field.
NEW! Additional content and images on MRI have been incorporated throughout the text to complete the coverage of other advanced imaging techniques such as CT scans.

1. Housing, Environment and Public Awareness
2. Avian Intelligence, Clinical Behavior and Welfare
3. Nutrition and Nutritional Management
4. Capture and Handling
5. The Clinical Examination
6. Clinical and Laboratory Diagnostic Examination
7. Anesthesia and Analgesia
8. Medical, Nursing and Cosmetic Procedures
9. Trauma-Related Medical Conditions
10. Management-Related Medical Conditions
11. Soft Tissue Surgery
12. Orthopedic Surgery
13. Systemic Diseases
14. Infectious Diseases
15. Reproduction
16. Post-Mortem Examination
17. Forensic Investigations in Avian Medicine
Appendices
Index

Jaime Samour, MVZ, PhD, Dip ECAMS, Director, Wildlife Division, Wrsan Farm, Abu Dhabi, United Arab Emirates