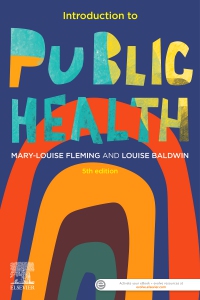 Publication Date:
05-01-2023
Introduction to Public Health - E-Book, 5th Edition
Elsevier eBook on VitalSource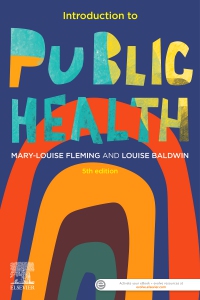 Publication Date:
05-01-2023
An understanding of public health – the systems, policies and theories that influence the health of the population – is important for decision making across the continuum of care. Introduction to Public Health provides a solid introduction to the key concepts of public health for undergraduate health science students and those new to the public health environment.

The text is divided into four sections, covering an overview of public health, the impact of policy and evidence, public health strategies and contemporary issues.

With contributions from a multidisciplinary range of experts, this fifth edition has been updated to include emerging public health challenges such as COVID-19, the impact of globalisation, wellbeing and chronic illnesses, as well as a clear understanding of the multidisciplinary nature of public health.
Positions public health concepts within an Australian and global context
Fully updated to reflect current public health policy and environment
Concise and accessible; content is "chunked" for easy navigation
Chapter case studies and examples to help illustrate key points
Reflection opportunities to deliver maximum learning
Written by experts from various public health specialties, providing a broad multidisciplinary perspective
Suitable for undergraduate health science courses and a range of postgraduate health science courses including Graduate Certificate, Diploma and Masters in Public Health, Health Service Management and Health Administration
Accompanied by a suite of video interviews with local experts to provide local public health context

Student resources on Evolve:

Instructor resources on Evolve:

Case studies + reflection questions
Video interviews
Image bank

New chapter about infectious diseases and COVID-19
Emerging public health issues including social and emotional wellbeing especially amongst young Australians, global health and contemporary challenges facing public health
Contemporary methods for planning and sustaining public health approaches

Section 1 Definitions, determinants and challenges
Introduction
1 Defining health and public health
2 Public Health Challenges
3 Epidemiology
4 Aboriginal and Torres Strait Islander health
Section 2 Policy, Ethics and Evidence
Introduction
5 Public Health Policy
6 Public health and social policy
7 Ethics and public health
8 Evidence-based practice
Section 3 Public Health Strategies
Introduction
9 People
10 Place
11 Enabling Environments for health
Section 4 Contemporary issues
Introduction
12 Refocusing Public Health with a Health Promotion and Prevention Lens
13 Applying Contemporary Approaches to Planning, Implementation, Evaluation and Learning for Public Health
14 Global health
15 Disasters, Emergencies and Terrorism
16 Concluding Remarks

Mary Louise Fleming, PhD, MA, BEd, Dip Teach, Public Health Consultant and Board Director. Adjunct Professor, School of Public Health and Social Work at the Queensland University of Technology, Brisbane, Queensland. and Louise Baldwin, PhD, MHSc (Health Promotion), B.Ed (Sec), FHEA, School of Public Health and Social Work Faculty of Health Queensland University of Technology (QUT) Australia