Elsevier's Medical Laboratory Science Examination Review
,
Paperback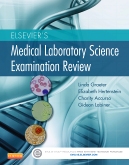 Free Shipping!
In Stock
This item has low stock levels and may be back-ordered. We'll let you know if it is back-ordered, and you will not be charged until the item ships.
Elsevier's Medical Laboratory Science Examination Review is a brand-new resource that offers all the review, practice, and support you need to prepare for the either the MLS or MLT certification examination. Each chapter in the book offers a thorough review on one of the core areas of Medical Laboratory Science as outlined by the ASCP Board of Certification. Practice questions are also featured at the end of each chapter and explanations and rationales for each correct answer appear at the end of the text. Plus, an eight-page full-color insert displays photomicrographs of hematological and microbiological specimens exactly as they appear under the microscope and on the MLS and MLT certification exams. A mock certifications exam is included in the print book as well as online at the companion Evolve website – which also houses additional practice questions – totaling 1,000 questions in all.
Inclusion of both MLS and MLT level content and questions enables the book to be used for both certification exams
Print mock exam at the end of the book contains 100 certification examination preparation questions.
Content reviews in outline form enables each topic to be easily reviewed but covered in an appropriate depth.
Online mock exams on the companion Evolve website include all the practice questions from the book plus additional unique questions that can be used to create mock exams for extra practice.
Eight-page full-color insert within the book features 50 illustrations that show hematological and microbiological photomicrographs.
Test-taking tips and suggestions discuss the exam, how it's set up and scored, when to answer, guess and not answers questions, how to identify distracters, and more.

1. Microbiology 2. Mycology/Virology and Parasitology 3. Hematology 4. Hemostasis 5. Urinalysis and Body Fluids 6. Immunology and Serology 7. Immunohematology 8. Clinical Chemistry 9. Molecular Diagnostics 10. Laboratory Operations 11. Laboratory Calculations

Appendix A: Rationales for Certification Preparation Questions Appendix B: Mock Examination

Linda Graeter, PhD, Department Head, Analytical and Diagnostic Sciences
Director, Clinical Laboratory Science Program
College of Allied Health Sciences
University of Cincinnati
Cincinnati, Ohio, Elizabeth Hertenstein, Charity Accurso and Gideon Labiner