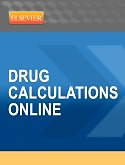 Drug Calculations Online
,
Online Course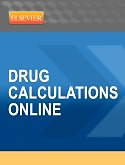 Or $0.00 with a valid access code
Drug Calculations Online contains media-rich, interactive content especially designed for online instruction of a vast array of drug calculations topics and four drug calculations methods, ratio and proportion, formula, fractional equation, and dimensional analysis. Ideal for diverse learning styles and circumstances, Drug Calculations Online can be used as a complete course or as an interactive course supplement. Drug Calculations Online teaches strong math skills and provides a platform to use these skills in completing drug calculations and administration. This online course is unique, innovative and affordable. It combines dynamic content, practice, and assessment into one resource that can be used in the classroom or home.
A full Course Introduction orients you to Drug Calculations Online which is organized into 16 modules.
Duration for access to this product is for the life of the edition.
Includes the four major drug calculation methods (ratio and proportion, formula, fractional equation, and dimensional analysis), so you can use the method which works best for you.
Follows recommendations from The Joint Commission (TJC) and the Institute for Safe Medication Practices (ISMP) for use of acceptable abbreviations and dose designations and QSEN (Quality and Safety Education for Nurses).
Many of the math practice problems include tutorials for each of the four drug calculation methods, providing step-by-step solutions for the problem.
Animations are used throughout this course to demonstrate techniques of drug administration such as how to mix two medications in a syringe or withdrawing medication from an ampule.
Case studies that consist of realistic patient scenarios are provided.
Interactive self-assessment activities related to various topic areas are incorporated throughout the course to allow you to apply your knowledge in context.
Engaging audio commentary enhances the step-by-step explanation of math skills and drug calculation methods.
Includes an audio glossary with drug calculation- and medical-related terms.
Or $0.00 with a valid access code