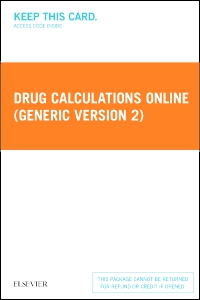 Publication Date:
04-26-2016
Drug Calculations Online (Generic Version 2), 1st Edition
Online Course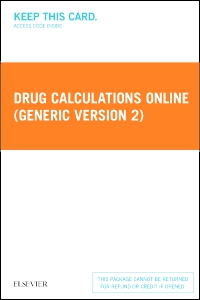 Publication Date:
04-26-2016
Or $0.00 with a valid access code
The easy-to-use Drug Calculations Online, Version 2 is especially designed for nursing students in need of an online drug calculations tool that can be used with any book. This affordable, innovative course features practice problems with step-by-step tutorials for each of the four major drug calculation methods (ratio and proportion, formula, fractional equation, and dimensional analysis), so you can choose your preferred method. Interactive self-assessment activities, such as matching, sequencing, labeling, and multiple select activities, expose you to the types of questions seen on the NCLEX® examination.
Duration for access to this product, which may be at the discretion of your institution, is up to 36 months. Elsevier reserves the right to restrict or remove access due to changes in product portfolio or other market conditions.
Some content has been removed from this site because Flash is no longer supported on web browsers.
Discusses the four major drug calculation methods (ratio & proportion, formula, fractional equation, and dimensional analysis) to expose students to all calculation methods, so they can choose their preferred method.
Provides extensive math instruction to help you master the basic skills needed to accurately and effectively calculate drug dosages.
Math practice problems with step-by-step tutorials guide you through each of the four drug calculation methods.
Interactive self-assessment activities, such as matching, sequencing, labeling, and multiple select activities, are similar to the types of questions seen on the NCLEX® examination.
Interactive case studies in select modules incorporate real life patient scenarios.
Quizzes within each module allow you to test your knowledge of all major topics covered in that particular section.
Animations demonstrate concepts related to dosage calculation and drug administration.
A comprehensive audio glossary defines pertinent terms within the course.
Modules are organized by topic sections and include an overview, objectives, a reading assignment, example problems, practice problems, quizzes and test bank questions.
Coverage includes the most current guidelines for safe medication practice from The Joint Commission (TJC) and the Institute for Safe Medication Practice (ISMP), so certain abbreviations, acronyms, and symbols are not used.
Engaging voice-over narration enhances the step-by-step explanation of math skills and drug calculation methods — and livens up instruction and discussion.
Content on the latest drug administration techniques and devices, as well as the various forms of administering drugs, including oral, intravenous, intra-muscular, subcutaneous, and other routes used in drug administration.
Covers infusion pumps (enteral, single, multi-channel, PCA, and insulin) to help you understand their increased use in drug administration.

NEW! Insulin Administration module keeps you in the know.

Basic Math Review
Module 1: Systems Used for Drug Administration
Module 2: Conversion Within the Metric, Apothecary, and Household Systems
Module 3: Interpretation of Drug Labels, Drug Orders, Bar Codes, MAR and eMAR, Automation of Medication Dispension, and Abbreviations
Module 4: Prevention of Medication Errors
Module 5: Alternative Methods for Drug Administration
Module 6: Methods of Calculation
Module 7: Methods of Calculation for Individualized Drug Dosing
Module 8: Oral and Enteral Preparations with Clinical Applications
Module 9: Injectable Preparations with Clinical Applications
Module 10: NEW! Insulin Administration
Module 11: Intravenous Preparations with Clinical Applications
Module 12: Pediatrics
Module 13: Critical Care
Module 14: Pediatric Critical Care
Module 15: Labor and Delivery
Module 16: Community

Mosby
Or $0.00 with a valid access code