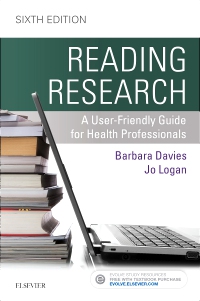 Publication Date:
10-31-2017
Reading Research - Elsevier eBook on VitalSource, 6th Edition
Elsevier eBook on VitalSource
Publication Date:
10-31-2017
Ideal for both students and health professionals alike, Reading Research: A User-Friendly Guide for Health Professionals, 6th Edition is a practical beginner-level introduction to health sciences research. The text is written in a manner that assumes the reader has little or no experience with analyzing published research, and provides guidelines for reading and understanding research articles. It also covers important elements of published research, such as research methods, common terminology, data analysis and results. All chapters have been updated to include new literature impacting evidence-based practice, providing students with a synopsis of the latest research. For those in the field, the book briefly discusses how research results can be used and applied to practice.
Concise overview of health sciences-related research maximizes your study time by including all popular types of research methodologies.
UNIQUE! Tips boxes provide easy-to-follow, practical suggestions for those who are new to the subject.
UNIQUE! Alert! boxes warn of common assumptions made when reading research.
Accompanying website provides up-to-date links for relevant research projects and other research-related sites, and offers Reader's Companion Worksheets for qualitative, quantitative, mixed method, and systematic reviews.

NEW! All chapters updated with the key terms and explanation of common research methods.
NEW! Content on using the web, social media and avoiding predatory journals.
NEW! Expansion on applying research to improve patient outcomes helps you to understand the importance of research.
NEW! Introductory overview chapter gives you a better understanding of how the book is organized and how to utilize its content.

Introduction
Easy Steps for Reading Research
Where to Find Interesting Research Results
Using Research Results

Appendices

Journals that Publish Peer-Reviewed Research
Qualitative Research: The Reader's Companion Worksheet
Quantitative Research: The Reader's Companion Worksheet
Mixed Methods Research: The Reader's Companion Worksheet
Systematic Reviews: The Reader's Companion Worksheet
Using Research Results: The Reader's Companion Worksheet

Barbara Davies, RN, PhD, FCAHS, School of Nursing, Faculty of Health Sciences,University of Ottawa Ottawa, ON and Jo Logan, BScN, PhD, School of Nursing, Faculty of Health Sciences,University of Ottawa,ON