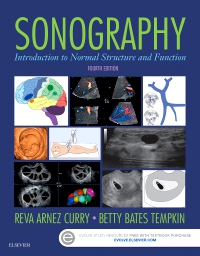 Publication Date:
10-14-2015
Sonography - Elsevier eBook on VitalSource, 4th Edition
Elsevier eBook on VitalSource
Publication Date:
10-14-2015
Without a thorough knowledge of the appearance of normal anatomy, your students may have a tough time recognizing abnormalities in ultrasound images. Give your students a firm grounding in normal anatomy and physiology from an ultrasound perspective with Sonography: Introduction to Normal Structure and Function, 4th Edition. The new edition of this highly visual introductory text presents a wealth of ultrasound images, accompanied by labeled drawings with detailed legends, to increase students' comfort with normal anatomy as it appears during scanning. Its consistent chapter format makes the content easy to navigate and reinforces the discipline of following a standard protocol to scan each area of the body.
Detailed line drawings accompany most sonograms to explain what you should notice on each scan. If you do not see the structure, or are uncertain of it on the image, you can look at the diagram for confirmation.
Over 1,500 images provide a thorough, visual understanding of sonography.
Consistent organization with a standardized heading scheme helps you when searching for information.
Content on quality control protocols in the clinical setting shows you how to recreate the most optimal scanning settings and techniques.
Evolve resources provide you with additional learning tools.

NEW! Full 4-color design incorporates color images within the appropriate chapter to help you understand the concepts without having to flip to the front of the book — and highlights the important points within each chapter.
NEW! Three all-new chapters bring you the most up-to-date information on fetal echocardiography, laboratory values, and ergonomics.
NEW! Updated sonograms demonstrate the latest and best images from the newest equipment, including 3D and 4D images.
NEW! Expanded Test Bank, with new questions for each chapter, provides 1,000 questions on the material.

Section I: Clinical Applications
1. Before and After the Ultrasound Examination
2. Ultrasound Instrumentation: "Knobology," Imaging Processing, and Storage
3. General Patient Care
4. NEW! Introduction to Ergonomics and Sonographer Safety
Section II: Sonographic Approach to Understanding Anatomy
5. Interdependent Body Systems
6. Anatomy Layering and Sectional Anatomy
7. First Scanning Experience
8. Embryology
9. NEW! Introduction to Laboratory Values
Section III: Abdominal Sonography
10. The Abdominal Aorta
11. The Inferior Vena Cava
12. The Portal Venous System
13. Abdominal Vasculature
14. The Liver
15. The Biliary System
16. The Pancreas
17. The Urinary System
18. The Spleen
19. The Gastrointestinal System
Section IV: Pelvic Sonography
20. The Male Pelvis
21. The Female Pelvis
Section V: Obstetric Sonography
22. First Trimester Obstetrics
23. Second and Third Trimester Obstetrics
24. High-Risk Obstetrical Sonography
25. NEW! Fetal Echocardiography
Section VI: Introduction to Specialty Sonography
26. The Neonatal Brain
Section VII: Small Parts Sonography
27. Thyroid and Parathyroid Glands
28. Breast Sonography
29. Penis and Scrotum
Section VIII: Superficial Sonography
30. Pediatric Echocardiography
31. Adult Echocardiography
32. Vascular Technology
Section IX: Advances in Sonography
33. 3D/4D Sonography
34. Interventional and Intraoperative Sonography

Reva Arnez Curry, PhD, RDMS, RTR, FSDMS, Executive Director of Community Partnerships, H201 Stockton Center for Community Schools, School of Education, Richard Stockton College, Pomona, NJ and Betty Bates Tempkin, BA, Member, Board of Directors, Piedmont Virginia Community College, Diagnostic Medical Sonography Program, Charlottesville, VA; Ultrasound Consultant, Middlebrook, VA; Formerly, Clinical Director, Diagnostic Medical Sonography Program, Hillsborough Community College, Tampa, FL