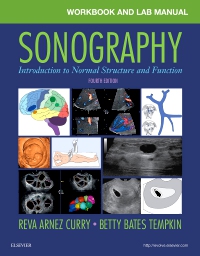 Publication Date:
11-09-2015
Workbook and Lab Manual for Sonography - Elsevier eBook on VitalSource, 4th Edition
Elsevier eBook on VitalSource
Publication Date:
11-09-2015
Curry and Tempkin's Workbook for Sonography: Introduction to Normal Structure and Function, 4th Edition is the essential reinforcement and review tool for visual information covered in the text. This Workbook supports and completes the text by providing an excellent introduction to sonography and preparing students to accurately identify sonographic pathology and abnormalities. Each chapter opens with review questions and features drawings from the text — with parallel sonograms where appropriate — that include leader lines to label structures. Your students fill in the labels to identify structures, reinforcing visual and auditory learning from the text. They can also refer to the text if they are uncertain or need to review an area.
Unlabeled line drawings and images from every chapter allow for immediate, thorough review of material — and let you refer to the text's diagrams and Workbook's appendix for answers.
Review questions test you on information learned in the text.
User-friendly standardized chapter format means you know exactly where to go for review in each chapter.

NEW! Thorough coverage of the newest U.S. imaging techniques keeps you informed about the latest developments and prepares you to meet the challenges of the clinical environment.
NEW! Three brand new chapters give you the most up-to-date information on fetal echocardiography, laboratory values, and ergonomics.
NEW! 340 added content review questions provide you with extra practice on core content from Curry and Tempkin's textbook.
NEW! Updated sonograms present the best and latest images from state-of-the-art equipment, including 3D and 4D images.

Section I: Clinical Applications
1. Before and After the Ultrasound Examination
2. Ultrasound Instrumentation: "Knobology," Imaging Processing, and Storage
3. General Patient Care
4. NEW! Introduction to Ergonomics and Sonographer Safety
Section II: Sonographic Approach to Understanding Anatomy
5. Interdependent Body Systems
6. Anatomy Layering and Sectional Anatomy
7. First Scanning Experience
8. Embryology
9. NEW! Introduction to Laboratory Values
Section III: Abdominal Sonography
10. The Abdominal Aorta
11. The Inferior Vena Cava
12. The Portal Venous System
13. Abdominal Vasculature
14. The Liver
15. The Biliary System
16. The Pancreas
17. The Urinary System
18. The Spleen
19. The Gastrointestinal System
Section IV: Pelvic Sonography
20. The Male Pelvis
21. The Female Pelvis
Section V: Obstetric Sonography
22. First Trimester Obstetrics
23. Second and Third Trimester Obstetrics
24. High-Risk Obstetrical Sonography
25. NEW! Fetal Echocardiography
Section VI: Introduction to Specialty Sonography
26. The Neonatal Brain
Section VII: Small Parts Sonography
27. Thyroid and Parathyroid Glands
28. Breast Sonography
29. Penis and Scrotum
Section VIII: Superficial Sonography
30. Pediatric Echocardiography
31. Adult Echocardiography
32. Vascular Technology
Section IX: Advances in Sonography
33. 3D/4D Sonography
34. Interventional and Intraoperative Sonography

Reva Arnez Curry, PhD, RDMS, RTR, FSDMS, Executive Director of Community Partnerships, H201 Stockton Center for Community Schools, School of Education, Richard Stockton College, Pomona, NJ and Betty Bates Tempkin, BA, Member, Board of Directors, Piedmont Virginia Community College, Diagnostic Medical Sonography Program, Charlottesville, VA; Ultrasound Consultant, Middlebrook, VA; Formerly, Clinical Director, Diagnostic Medical Sonography Program, Hillsborough Community College, Tampa, FL