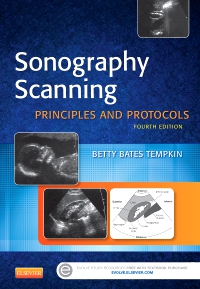 Publication Date:
12-15-2014
Sonography Scanning - Elsevier eBook on VitalSource, 4th Edition
Elsevier eBook on VitalSource
Publication Date:
12-15-2014
Commonly referred to as the "sonography bible" for first-semester sonography students, Betty Tempkin's Sonography Scanning, 4th Edition is the go-to guide for teaching students how to properly produce diagnostic sonograms for physicians. Featuring an updated two-color design, this new edition covers the latest ultrasound scanning principles along with step-by-step instructions for scanning and documenting images. The text also incorporates clinical skills, professionalism, image labeling, image techniques, case presentations, handling of ultrasound equipment, and the universal method for scanning and documenting pathologies. The scanning protocols follow AIUM guidelines and provide information on patient prep, transducers, breathing techniques, comprehensive surveys, and required images. Also included are the location of specific vessels or organs, anatomy and physiology, sonographic appearance, and normal variations.
Scanning principles and step-by-step instructions on how to scan and document images help users establish standardization and image documentation for physician diagnostic interpretation.
Scanning protocols that follow AIUM guidelines provides the essential information on patient prep, transducers, breathing techniques, comprehensive surveys, and required images. The location of specific vessels or organs, anatomy and physiology, sonographic appearance, and normal variations are also included.
Sonographic ergonomics and proper use of equipment help sonographers avoid occupational injuries.
Scanning protocol for pathology provides the criteria for evaluating and documenting abnormal sonographic findings, describing those findings within legal parameters, and relating those findings to the interpreting physician.
Review questions at the end of each chapter give users the ability to self-review.

NEW! Transducer location drawings included on images helps users understand exactly where on the body they should scan to produce a particular image.
NEW! Musculoskeletal chapter provides musculoskeletal coverage for those sonographers interested in this specialty.
NEW! Two-color streamlined design enhances readability and allows for more images on the page.
NEW! 300 new images demonstrate superior quality images from the latest state-of-the-art ultrasound equipment.
NEW! Pedagogy including key terms and objectives is included at the beginning of each chapter to specify chapter expectations and focus study.

Part I: General Principles
1. Clinical Principles
2. Scanning Planes and Scanning Methods
Part II: Pathology
3. Scanning Protocol for Abnormal Findings
Part III: Abdominal Scanning Protocols
4. Abdominal Aorta Scanning Protocol
5. Inferior Vena Cava Scanning Protocol
6. Liver Scanning Protocol
7. Gallbladder and Biliary Tract Scanning Protocol
8. Pancreas Scanning Protocol
9. Renal Scanning Protocol
10. Spleen Scanning Protocol
Part IV: Pelvic Scanning Protocols
11. Female Pelvis Scanning Protocol
12. Transvaginal Sonography
13. Obstetrics Scanning Protocol for First, Second, and Third Trimesters
14. Male Pelvis Scanning Protocol for the Prostate Gland, Scrotum, and Penis
Part V: Small Parts Scanning Protocols
15. Musculoskeletal Scanning Protocol
16. Thyroid and Parathyroid Glands Scanning Protocol
17. Breast Scanning Protocol
18. Neonatal Brain Scanning Protocol
Part VI: Vascular Scanning Protocols
19. Abdominal Doppler and Color Flow
20. Cerebrovascular Duplex Scanning Protocol
21. Peripheral Arterial and Venous Duplex Scanning Protocols
Part VII: Echocardiography
22. Adult Echocardiography Scanning Protocol
23. Pediatric Echocardiography Scanning Protocol
Appendices
A. Guidelines for Performance of the Abdominal and Retroperitoneal Ultrasound Examination
B. Guidelines for Performance of the Scrotal Ultrasound Examination
C. Guidelines for Performance of the Antepartum Obstetrical Ultrasound Examination
D. Guidelines for Performance of the Ultrasound Examination of the Female Pelvis
E. Guidelines for Performance of the Ultrasound Examination of the Prostate (and Surrounding Structures)

Betty Bates Tempkin, BA, Member, Board of Directors, Piedmont Virginia Community College, Diagnostic Medical Sonography Program, Charlottesville, VA; Ultrasound Consultant, Middlebrook, VA; Formerly, Clinical Director, Diagnostic Medical Sonography Program, Hillsborough Community College, Tampa, FL