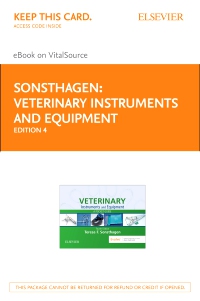 Publication Date:
01-04-2019
Veterinary Instruments and Equipment - Elsevier E-Book on VitalSource (Retail Access Card), 4th Edition
Elsevier eBook on VitalSource - Access Card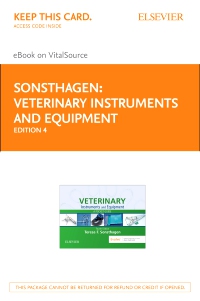 Publication Date:
01-04-2019
This item has low stock levels and may be back-ordered. We'll let you know if it is back-ordered, and you will not be charged until the item ships.
Help familiarize your students with the names and uses of veterinary instruments in realistic details that textbook descriptions alone can't provide! Veterinary Instruments and Equipment: A Pocket Guide, 4th Edition shows hundreds of detailed, full-color photographs of instruments and describes how and when each is used. A flashcard-style format makes it easy to flip through the pages, so students will quickly become familiar with commonly used equipment. This new edition features updated photographs, new instruments, and an all-new appendix with the author's recommended list of instruments essential for the most-common veterinary surgical kits, including ambulatory, orthopedic, and major surgery packs. Plus, the Evolve companion website includes instrument photographs that may be rotated 360 degrees so that students can zoom in to see close-ups of the different tips.
Accompanying Evolve site uses an interactive format giving you the ability to conveniently study and learn instruments to which you'd normally have only limited access
Instruments and equipment shown for common procedures for small and large animals, including bovine, equine, sheep, pigs, and goats, and include procedures such as dehorning, hoof care, castration, and teat and obstetrical procedures.
Coverage of surgical instruments includes general instruments such as hemostats, forceps, and scissors, and describes orthopedic, ophthalmic, and dental instruments used in veterinary specialty surgeries.
Coverage of restraint equipment includes proper restraint techniques for all species of large and small animals.
Handy pocket size and spiral binding allows the book to lay flat or fold over so that only the instrument or description is visible.
Accompanying Evolve site uses an interactive format giving students the ability to conveniently study and learn instruments to which they normally have only limited access.
400 high-quality color photographs help you to quickly become familiar with instruments.
A flip book, flashcard format makes it easy for you to learn veterinary instruments and equipment.

NEW! Thoroughly updated photographs throughout ensures you are studying the most up-to-date instruments on the market.
NEW! Topics throughout the text include:

Spay (Ovariohysterectomy) Packs
Neuter (Orchiectomy) Surgical Pack
Neuter (Orchiectomy) Surgical Pack
General Surgical Pack
Orthopedic Surgical Pack
Ophthalmic Surgical Instruments
Dental Prophylaxis Kit
Dental Periodontal Extraction Kit

Part 1: General Medical Instruments and Restraint Equipment 1. Instruments for the Administration of Medicine 2. Diagnostic Instruments 3. Instruments for Small Animals 4. Instruments for the Identification of Animals 5. Instruments Used for Bovines 6. Instruments for Dehorning Animals 7. Catheters and Tubes 8. Instruments for Castration of Large Animals 9. Obstetrical Instruments 10. Instruments for Hoof Care 11. Instruments Used in Equines 12. Instruments Used for Pigs, Sheep, and Goats 13. Restraint Equipment for Canines and Felines 14. Diagnostic Imaging Instruments and Equipment 15. NEW! Anesthesiology and Surgical Suite Equipment

Part 2: Surgical Instruments 16. Hemostats and Forceps 17. Instruments in Surgical Packs 18. Needle Holders and Scissors 19. Retractors and Rib Spreaders 20. Orthopedic Instruments 21. Ophthalmic Instruments 22. Dental Instruments 23. Teat Instruments 24. NEW! Surgical Instrument Packs 25. Care of Instruments

Appendix A: Veterinary Equipment and Instruments Photo Credits Index

Teresa F. Sonsthagen, BS, LVT, Instructor, Veterinary Technology Program, Department of Animal and Range of Sciences; North Dakota State University, Fargo, ND