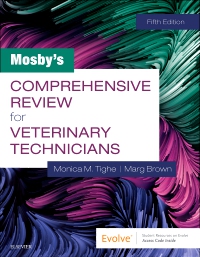 Evolve Resources for Mosby's Comprehensive Review for Veterinary Technicians
, 5th Edition
Resources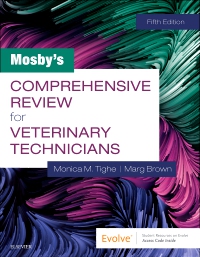 Not Yet Available
Coming Soon!
Expected availability date: 06-01-2019
Educator Resources on Evolve
Image Collection
VTNE Mapping documents (NEW!)
Student Resources on Evolve 
Comprehensive Review and Practice Exam
Database of more than 500 examination questions
Ability to create unique practice tests from the database of questions
Clock functionality to practice time management
6 Printable Web Appendices (PDFs)
Web Appendix A. Abbreviations and Symbols Web Appendix B. The Metric System and Equivalents Web Appendix C. Medical Terminology Web Appendix D. Species Names of Common Animals Web Appendix E. Normal Values Web Appendix F. Additional Veterinary Technician Resources
Monica M. Tighe, RVT, BA, St. Clair College of Applied Arts and Technology, Windsor, Ontario, Canada and Marg Brown, RVT, BEd Ad Ed, Penn Foster College, Scranton, Pennsylvania, Active Member, Ontario Association of Veterinary Technicians and Association of Veterinary Technician Educators

This product is available in the following formats:
Not Yet Available
Coming Soon!
Expected availability date: 06-01-2019