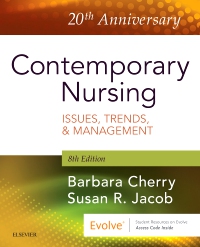 Publication Date:
11-01-2018
Contemporary Nursing Elsevier eBook on VitalSource, 8th Edition
Elsevier eBook on VitalSource
Publication Date:
11-01-2018
Ensure your students are thoroughly prepared to work in the rapidly evolving world of nursing. Written by expert authors Barbara Cherry and Susan Jacob Contemporary Nursing: Issues, Trends, & Management, 8th Edition provides an overview of both issues within nursing practice and topics facing today's nurse managers and leaders. The 20th anniversary edition of this comprehensive guide emphasizes the importance of working in an interdisciplinary environment and takes students through the evolution of nursing, safe and effective decision-making, the nursing role, collaboration and communication, leadership, and job opportunities. New to this edition is coverage of health issues affecting the LGBTQ community, hospice care, how to respond to active shooter events, and a number of other timely issues affecting healthcare and nursing practice today.
UPDATED Content on incivility, bullying and workplace violence, provides a short scenario about issues you might face in practice.
Key terms, learning outcomes, chapter overviews, and chapter summaries help you focus your learning experience.
Unit on Leadership and Management in Nursing includes content to prepare nurses to effectively function in the management roles expected of the professional nurse.
Unit on Career Management provides strategies on how to make the transition from student to practitioner and tips on how to pass the NCLEX-RN Examination.
Case studies help you apply theory to clinical practice.
Vignettes at the beginning of each chapter personalize nursing history and practice and help you to understand your place in the profession. Questions to Consider While Reading This Chapter follow the vignettes and prepare the reader for the topic to be discussed.
Humorous cartoons open each chapter to illustrate the chapter themes.
Full-color design enhances the narrative with a clear, visually appealing explanation of concepts.

NEW! Coverage of the Nursys' program allows nurses, employers, and boards of nursing to verify that nursing licenses are current and in good standing.
NEW! Coverage of LGBTQ Health Issues and other marginalized groups discusses how to improve the care of a diverse population.
NEW! Integration of advanced technology into all aspects of clinical care and job placement focuses on the ever-changing role of technology in the workplace.
NEW! Expanded coverage of working in an interdisciplinary team reflects the changing healthcare landscape and need to work in collaboration with a variety of healthcare specialists.
NEW! Coverage of how to respond to active shooter events prepares you for what you might face during a mass casualty event.
NEW! Coverage of current legal cases includes relevant examples of legal issues affecting nurses.
NEW! Evolution of the nation's healthcare system based on healthcare reform covers alternative models of healthcare reimbursement to promote quality and cost effectiveness along with new opportunities for nursing practice.
NEW! Chapter on hospice care focuses on how to best provide patients with relief during end of life care, and how to support family members.
NEW! The enhanced Nurse Licensure Compact (eNLC) keeps you up to date on the latest on multi-state licensing.
NEW! Updated coverage reflects the most current data and references in the market.

Unit 1: The Development of Nursing

1. The Evolution of Professional Nursing 2. The Contemporary Image of Professional Nursing 3. The Influence of Contemporary Trends and Issues on Nursing Education 4. Nursing Licensure and Certification 5. Theories of Nursing Practice 6. Nursing Research and Evidence-Based Practice

Unit 2: Current Issues in Health Care 7. Paying for Health Care in America: Rising Costs and Challenges 8. Legal Issues in Nursing and Health Care 9. Ethical and Bioethical Issues in Nursing and Health Care 10. Cultural Competency and Social Issues in Nursing and Health Care 11. Complementary and Alternative Healing 12. Palliative Care 13. Workforce Advocacy and the Nursing Shortage 14. Collective Bargaining and Unions in Today's Workplace 15. Information Technology in the Clinical Setting 16. Emergency Preparedness and Response for Today's World

Unit 3: Leadership and Management in Nursing 17. Nursing Leadership and Management 18. Budgeting Basics for Nurses 19. Effective Communication and Conflict Resolution 20. Effective Delegation and Supervision 21. Staffing and Nursing Care Delivery Models 22. Quality Improvement and Patient Safety 23. Health Policy and Politics: Get Involved!

Unit 4: Career Management 24. Making the Transition from Student to Professional Nurse 25. Managing Time: The Path to High Self-Performance 26. Contemporary Nursing Roles and Career Opportunities 27. Job Search: Finding Your Match 28. NCLEX-RN ® Examination

Barbara Cherry, DNSc, MBA, RN, NEA-BC, Professor ,Texas Tech University Health Sciences Center School of Nursing Lubbock Texas and Susan R. Jacob, PhD, MSN, RN, Professor and Executive Associate Dean of Academic Affairs,The University of Tennessee Health Science Center, College of Nursing,Memphis Tennessee