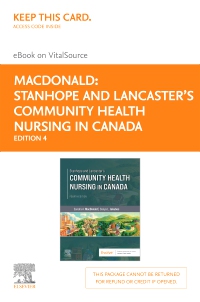 Publication Date:
10-05-2021
Community Health Nursing in Canada - Elsevier eBook on VST (Retail Access Card), 4th Edition
Elsevier eBook on VitalSource - Access Card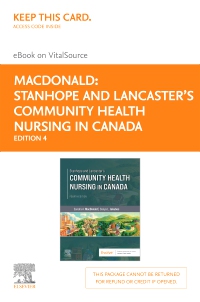 Publication Date:
10-05-2021
This item has low stock levels and may be back-ordered. We'll let you know if it is back-ordered, and you will not be charged until the item ships.
Help your students master the nurse's role in health promotion for Canadian populations and communities! Stanhope and Lancaster's Community Health Nursing in Canada, 4th Edition covers the concepts and skills needed for effective, evidence-informed practice. It addresses individual, family, and group health as well as the social and economic conditions that can affect the health of a community. Concise, easy-to-read chapters include coverage of the latest issues, approaches, and points of view. Written by Canadian educators Sandra A. MacDonald and Sonya L. Jakubec in collaboration with Indigenous scholar Dr. R. Lisa Bourque Bearskin, this edition makes it even easier for students to apply nursing principles and strategies to practice.
UNIQUE! Evidence-Informed Practice boxes illustrate how to apply the latest research findings in community health nursing.
UNIQUE! Indigenous Health: Working with First Nations Peoples, Inuit, and Métis chapter details community health nursing in Indigenous communities.
UNIQUE! Determinants of Health boxes highlight the critical factors contributing to individual or group health.
Levels of Prevention boxes give examples of primary, secondary, and tertiary prevention related to community health nursing practice.
CHN in Practice boxes in each chapter provide unique case studies to help you develop your assessment and critical thinking skills.
How To boxes use real-life examples to provide specific, application-oriented information.
Ethical Considerations boxes provide examples of ethical situations and relevant principles involved in making informed decisions in community health nursing practice.
Cultural Considerations boxes present culturally diverse scenarios that offer questions for reflection and class discussion.
Chapter Summary sections provide a helpful summary of the key points within each chapter.

NEW! NGN-style case studies are provided on the Evolve companion website.
NEW! Thoroughly updated references and sources present the latest research, statistics, and Canadian events and scenarios, including the latest Community Health Nurses of Canada (CHNC) Canadian Community Health Nursing Standards of Practice (2019 edition).
NEW! Expanded coverage of global health, global issues, and the global environment Is integrated throughout the book.
NEW! Revised Working with Working with People Who Experience Structural Vulnerabilities chapter views vulnerable populations through a social justice lens.
NEW! Enhanced content provides greater application to practice.
NEW! Further clarification of the differing roles of CHNs and PHNS is provided.

UNIT I: Background and Roles for Community Health Nursing
1. Community Health Nursing
2. The Evolution of Community Health Nursing in Canada
3. Community Health Nursing in Canada: Settings, Functions, and Roles
UNIT II: Community Health Foundations and Principles
4. Health Promotion
5. Evidence-Informed Practice in Community Health Nursing
6. Ethics in Community Health Nursing Practice
7. Diversity and Relational Practice in Community Health Nursing
8. Epidemiological Applications
9. Working With the Community
10. Health Program Planning and Evaluation
UNIT III: Stakeholders and Populations of Community Health Nursing Practice
11. Working With the Individual as Client: Health and Wellness Across the Lifespan
12. Working With Families
13. Working with Groups, Teams, and Partners
14. Indigenous Health: Working with First Nations People, Inuit, and Métis
15. Working with Working with People Who Experience Structural Vulnerabilities
UNIT IV: Specific Domains of Community Health Practice
16. Communicable and Infectious Disease Prevention and Control
17. Environmental Health
18. Disaster ManagementUNIT I: Background and Roles for Community Health Nursing
1. Community Health Nursing
2. The Evolution of Community Health Nursing in Canada
3. Community Health Nursing in Canada: Settings, Functions, and Roles
UNIT II: Community Health Foundations and Principles
4. Health Promotion
5. Evidence-Informed Practice in Community Health Nursing
6. Ethics in Community Health Nursing Practice
7. Diversity and Relational Practice in Community Health Nursing
8. Epidemiological Applications
9. Working With the Community
10. Health Program Planning and Evaluation
UNIT III: Stakeholders and Populations of Community Health Nursing Practice
11. Working With the Individual as Client: Health and Wellness Across the Lifespan
12. Working With Families
13. Working with Groups, Teams, and Partners
14. Indigenous Health: Working with First Nations People, Inuit, and Métis
15. Working with Working with People Who Experience Structural Vulnerabilities
UNIT IV: Specific Domains of Community Health Practice
16. Communicable and Infectious Disease Prevention and Control
17. Environmental Health
18. Disaster Management

Sandra A. MacDonald, BN, MN, PhD, Associate Dean, Undergraduate Programs – Nursing, at Memorial University of Newfoundland, St. John's, Newfoundland and Sonya L. Jakubec, RN, BHScN, MN, PhD, Professor, School of Nursing and Midwifery, Mount Royal University, Calgary, AB